Nominations are now open for the inaugural Pride of New Zealand Awards, celebrating the Kiwis who make us proud. Jamie Morton meets a few of the nominees so far.
Key Points:
Yvonne Brown
Environment category:
First there was one abandoned feline. Then two. Now the tally is more than 12,000 - and still running. Given the number of homeless cats that Yvonne Brown has saved, it's easy to see why Mangere care worker is seen somewhat as an unsung heroine. Ms Brown, who runs a backyard cattery called Cats'n'Jammas, founded the Cats In Need Trust in 2003, with a mission to rescue unwanted, abandoned or abused cats and kittens. She said its inspiration came in the shabby form of a long haired tabby named Sammy, his right eye a mess from the cigarette butt that had been pushed into it. After Sammy was brought to her, she had him neutered and searched for a new owner, but no one would take him. She came to love him, and by the time he died in a fire eight and half years later, his legacy was already seeing fellow felines from around the city being taken in. Today, there are around 100 cats in Ms Brown's cattery, all in need of a home. While not cuddling the mass of furry friends she has surrounded herself with, she is working for Presbyterian Support, "going in and out of peoples' houses, putting them to bed". She admits that not everyone could manage her gruelling workload, where there's little time to rest. "Stark raving mad is what you have to be," she said with a laugh. "You'd have to have rocks in your head." Despite her hard work, was "gob-smacked" to have been nominated for the Pride of New Zealand Award. "It's a thankless job - the only thanks you get is when you see a little kitty going off that you've hand-reared, or one that's come from the jaws of death," she said. "You stand there crying while the people go off with it, and you think, my God I am soft."
Stephen Pearson
Community spirit category:
If you want an idea of what Stephen Pearson does for kids in Tauranga, take a look at his kitchen. Half of it is filled up with boxes of cereal, all destined for the five local schools and three daycare centres that benefit from the breakfast service he began last year, Kids Love Kai. And space has sometimes been a little tighter in the Pearson household - one fully-laden truck that took 45 minutes to unload brought enough cereal to pack out his entire living room.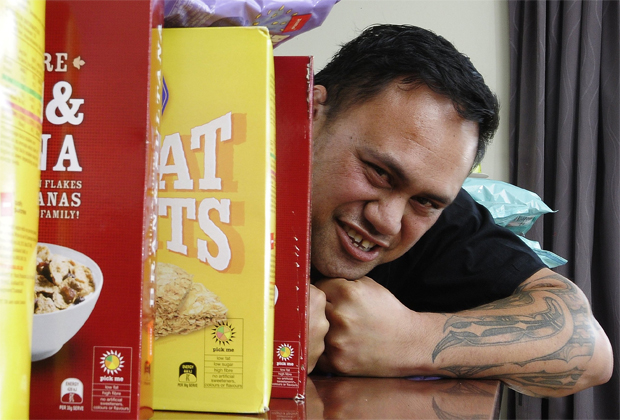 The Gate Pa father was moved to start Kids Love Kai last year when he noticed some children were beginning their school days with empty stomachs. "If you see a young child coming in to school at 7.30am or 8am in the morning and wanting breakfast, it's quite disheartening to see and you just want to do so much," he said. "So I decided to go ahead and take it upon myself to start a Facebook page to see what pull I could get, and from there, I was actually quite amazed how much support I got." Donated boxes of cereal began coming in from across Tauranga, and then delivered on to local lower decile schools. Kids Love Kai has grown steadily, and Mr Pearson has been chuffed to hear some of the children calling him by his first name. Mr Pearson remains keen to see Kids Love Kai rolled out elsewhere around the country, and at a recent charity boxing match, discussed with fighters a potential service for Hamilton. His hard work has been praised by educators, one describing him as a "godsend" and an "angel". "At the end of the day, I just love seeing the smiles on the kids' faces when they walk out the door after they've had breakfast," he said. "I know that once they get into class, they can really learn.
Julie King
Community spirit category:
Julie King admits it's an interesting twist of fate that something as harmful to communities as legal high addiction could inspire something as helpful as a soup kitchen service. The Tokoroa mum of four, co-founder of Love Soup, is now helping open branches in West Auckland, Taupo and Rotorua. It all began, she said, when the problems that legal highs were having in her South Waikato town became too clear to ignore.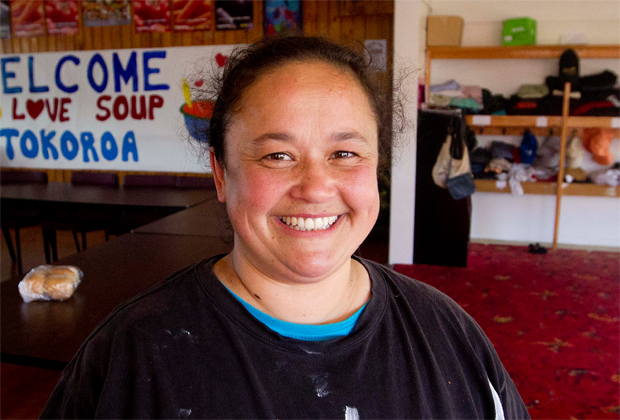 "I was hearing about all the harm it was causing, and it was concerning to me, especially when it involved the young ones." Youths who were too young to buy the products from their local dairy were still obtaining them, sometimes with alarming results. "We even had three youths go by ambulance to hospital. Meanwhile, people using it were becoming scary, angry and paranoid - and it was breaking up families," she said. "I knew nothing would happen if we didn't do something about it." Her first step was a lone protest outside a dairy selling them. Her actions drew death threats, but also personal stories from people who approached her, opening her eyes wider to the scale of the problem. "They were sharing stories about how it had affected their lives and loved ones ... I was thinking then that this is really bad." She pushed her campaign wider, using Facebook to orchestrate a nationwide protest in 22 towns. Ms King also used the community backing she won to realise a long-held aspiration of opening a twice-weekly soup kitchen. With the Government now having banned legal highs, she knows the service will be needed even more. "I know that people are excited about the ban, but I'm aware that addiction is nasty and it's not going to go away," she said. "People are going to need support and that's what I'm pushing for at the moment."
Sonia Wilson
Community spirit category:
"There are a lot of hours in a day ... and you'd be amazed what you can fit into them." They're words to live by for Sonia Wilson, who has sacrificed much of her life to help others in their greatest time of need. Mrs Wilson has given 25 years as a volunteer for Rotorua Victim Support, all while training, working full time, or bringing up children.
When she's in a zimmer frame, she jokes, she'll still be heading out the door to call-outs. Being community-minded was something the 49-year-old was brought up with, her father serving on the PTA and her mother helping with service clubs. Victim Support was in its infancy when Mrs Wilson joined up in her early 20s. "We went through an initial training period, but back in those days, it was quite basic, and after you'd finished your training there was an expectation you were ready to be called for any crime, trauma, or accident." Plunged into these high-pressure situations for the first time, recruits discovered whether they were up to it. Mrs Wilson thankfully found she was. "Going out to different jobs, it was always very humbling because you are meeting people at times in their lives when things are quite difficult, and you are doing the best you can to assist them through it." The cases weren't always accidents and tragedies - they might have been supporting someone who had been the victim of theft, or who were giving evidence at a trial. "Everything that you attend is different, because everybody is unique and individuals have different needs." Having an understanding family has helped, and her husband John, a well known and respected member of the police in Rotorua, was often busy enough in his own work. "It is a big ask of families because often the time you when you are most needed is during holiday time - I think I'm really lucky that I've got a family who don't mind that."
Kelly Dugan
Community spirit category:
When Kelly Dugan's daughter Lucia was born with disabilities in 2011, the tough times and constant hospital visits that followed proved a struggle. As testament to the Christchurch father's now famous selfless spirit, he wasn't just thinking of his own family when he realised what support could make life easier. "I realised there was support for this and that, but there was a lot of stuff that seemed to fall through the cracks," he said.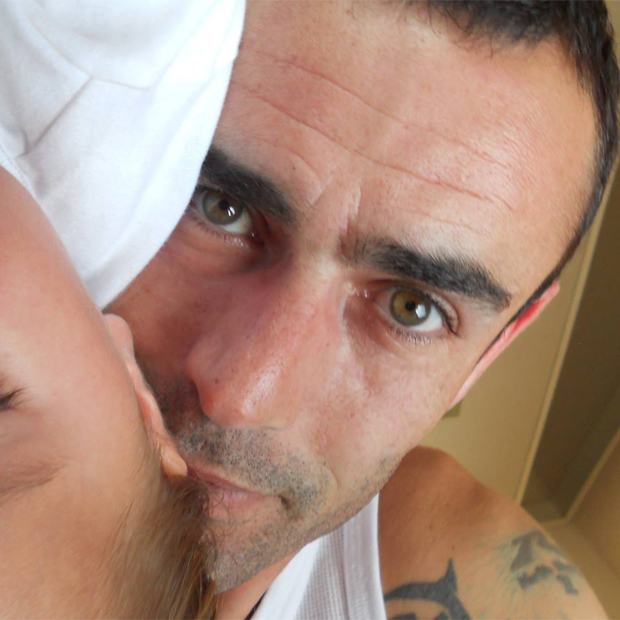 "So I started to help a few people, then a few more, and it's all progressed to where we are now." The result was named Smile Dial, a project which strives to take a little pressure of families with ill children. Its first deed was to take some brightly-coloured paint to the walls of the paediatrics department at Christchurch Hospital, with help from some talented artists. Since then, Smile Dial has arranged donated vouchers and gift packages for battling families, and organised family entertainment days. Its latest act was a "mums only" champagne for breakfast, held in four places around New Zealand. Mr Dugan stressed that it was those people and companies which had supported Smile Dial that had made his dream possible. His goal was to expand Smile Dial to more places around the country: "the bigger we get, the more we can do". "In these families, the majority of support is aimed at the kids, but we recognise that entire families have challenges to face," he said. "We know it's bloody hard, because we dealing with it every day as well. So we just want you to have a treat for a change, and make it all about you."
Billie Jordan
Community spirit category:
There's something slightly unusual about Billie Jordan's hip hop dance crew. It might be that they wear bright green and pink socks, or that their hair features splashes of blue, red, purple and orange.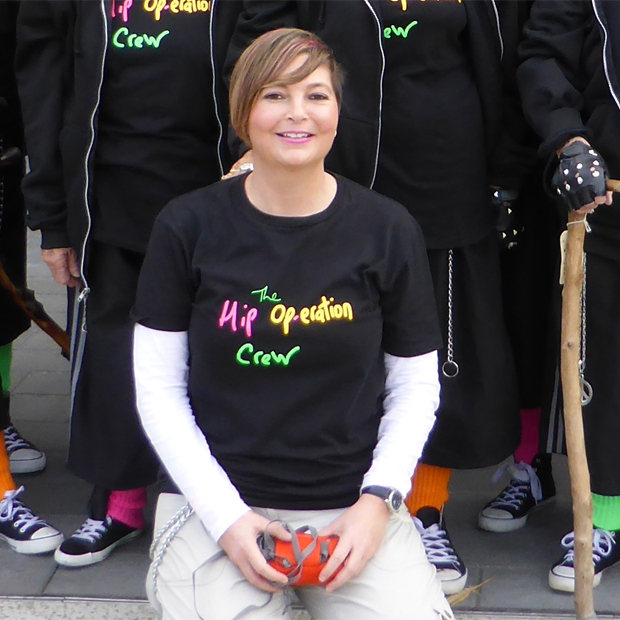 Or it might be that the average age of the 23-strong troupe is 80. As was recently confirmed in the Guinness Book of Records, Ms Jordan's Waiheke Island-based "Hip Op-eration Crew" is the world's oldest hip hop crew. Now globally famous, the crew was formed out of a flash mob of seniors that Ms Jordan organised on a whim in 2012. The year before, she'd shifted from quake-ravaged Christchurch back home to Auckland suffering post-traumatic stress disorder and constantly expecting death. It was when she noticed the same attitude among the elderly on the island that she decided that life should be for living - and dancing. "So I got in my van and just drove around and approached anybody who looked 65 or over, and asked them if they wanted to join a flash mob." Her bold bid succeeded when 80 senior citizens, aged from 65 to 94, answered the call. "After that, I thought, I'll set them a really ambitious goal - to become a hip hop dance crew." Eight months later, the grey-haired group received a standing ovation at the World Hip-Hop Championship Finals in Las Vegas, and made the front page of the Wall Street Journal. The crew, boasting stage names such as Quicksilver and Shake It Up Sheila, have also been favourites at the New Zealand National Hip Hop Championships, and in October, will perform before a huge audience at a stadium in Taiwan. "It shows that if you can get outside your comfort zone, you can still achieve some bizarre and amazing things in your life," Ms Jordan said. "We just want to encourage people that life is for living, and it's not over until you've stopped breathing."
Pride of NZ Awards
The
Pride of New Zealand Awards
recognise ordinary Kiwis doing big things in their communities. Anyone can nominate people they feel are unsung heroes working hard to make a difference within their local community. The awards are a key component of the Herald's 150th birthday celebrations and have been launched in association with The Hits radio station and TSB Bank, and with support from APN regional newspapers. The six categories honour bravery and heroism, community spirit, environmental leaders, emergency heroes and fundraisers. A special lifetime achievement award will be given and a people's choice award will allow the public to choose their favourites among those nominated.
For more coverage of the awards, go here or to nominate someone, head to the Pride of New Zealand Awards website