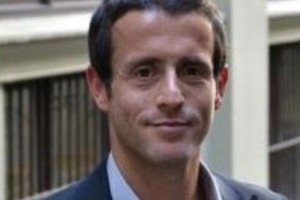 The death of a talented Australian tennis coach, who disappeared in Hamilton late last year and was later found drowned in the Waikato River, was accidental, a coroner has ruled.
Paul Arber was in Hamilton on December 7 with students for a series of tennis tournaments when he wandered away from the group while they went in search of dinner.
His disappearance sparked a five-day manhunt including a desperate plea for help from Mr Arber's Melbourne-based parents who flew to Hamilton to find the 38-year-old.
Coroner Wallace Bain said it appeared Mr Arber's drowning was a "tragic accidental death".
Toxicology reports showed Mr Arber did not have drugs or alcohol in his system but witnesses who encountered him over the course of eight hours reported unusual behaviour.
That included telling people he "loved" them, that he wanted to "be one with nature", and that "we're all the same, no-one is perfect".
He gave money to a homeless man and stopped to pat a dog.
Police concluded from witness reports that Mr Arber appeared to present with "radical changes in his behaviour".
Mr Arber's father Sam said his son had recently become more spiritual and a vegan and Dr Bain said it appeared Mr Arber was taking a holistic view of life.
Sam Arber said his son did not show any signs of depression in the months before his death and never had in all the time he had been his son's GP.
He and his wife Richelle wanted a no swimming sign erected in the spot where Mr Arber disappeared, under the Victoria Bridge, to warn other tourists of the strong undercurrents in the Waikato River.
Mr Arber was spotted standing topless and at knee-height in the water near the bridge about 4am on December 8 by a couple who told him the river was dangerous and he should get out.
They tried to help him find his accommodation but when one of them used her mobile phone to search Google for his lodgings Mr Arber told her mobile phones were bad.
He told them he was only eating fruit and "wanted to be one with the earth".
The pair told Mr Arber a friend had drowned in the river and encouraged him onto the bridge before he said he would be alright and returned to the water.
"His parents think he planned to meditate and sun gaze at sunrise in a natural, peaceful setting," Dr Bain said in the report into Mr Arber's death.
They said he was not a swimmer and believed he had gone to the river for a "spiritual cleanse", not knowing how treacherous the river could be.
His body was found floating in the river on December 12 by a group of teenage rowers from Hamilton Girls' High School.
"This was a tragic accident and very sad loss of the life of a very talented Australia tennis coach who had played at the top level and who in all respects on the information before the court was a very respected and much loved young man," Dr Bain said.
The court did not make a formal recommendation for signage after Hamilton City Council said, as with any body of water it was the individual's responsibility to make sure they could swim within the conditions.