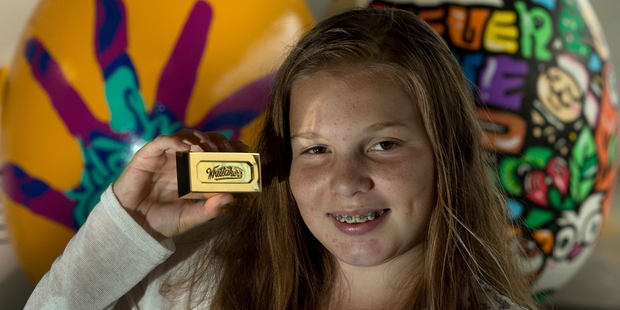 All that glisters is gold for an Auckland schoolgirl who won a 340g, 18-carat slab in a charity Easter egg hunt.
Epsom Girls Grammar School Year 10 student Brianna Fuller won the Whittaker's Big Egg Hunt, a competition that raised $235,000 for Starship children's hospital.
Brianna, who spent a day hunting around Auckland City for the eggs with her parents Ross and Greta, was drawn from more than 1,237,000 entries.
"I wasn't sure if the email [telling her she had won] was real," she said.
The 14-year-old plans to keep the gold bar - a gold replica of a peanut slab - in a safety deposit box until she is older.
The money raised for Starship came from auctioning 100 giant eggs created by well-known creatives - including Dick Frizzell, David Trubridge and Trelise Cooper. Whittaker's contributed $150,000 by donating money from chocolate sold throughout the hunt.