The medicines and biochemical products of the future may come from the ocean and New Zealand is becoming a key player in the blue-tech industry.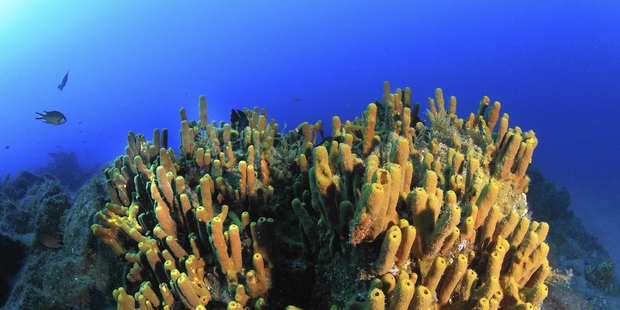 No one had known just what kind of weapon lay hidden off the coast of the South Island.
Behind the unlikely facade of a harmless sea sponge lurked a fearsome cocktail of chemicals that had evolved over billions of years, protecting it against a relentless onslaught of bacteria and viruses.
It was the early 1980s, and Dr Rob Lake was analysing a collection of deepwater sponges taken from the waters off Kaikoura as part of postdoctoral research with the University of Canterbury.
One particular sample, taken from a foul-coloured sponge and appropriately dubbed "yellow slimy", yielded an extract with exquisitely potent activity against cultured cancer cells.
Innocuous as they appear, sponges contain more toxic chemicals than any other species found in the sea.
"Weapons of mass destruction," the US National Cancer Institute's David Newman told the Wall Street Journal, "are alive and well on a coral reef."
But only in recent decades have scientists grasped what this could mean for humans.
In 1988, Dr Lake identified Halichondrin B, an active compound that had been found by Japanese researchers just a few years earlier.
The compound demonstrated a capability to block the division of cells in a way never seen before, and was swiftly patented as a potential anti-tumour agent.
Twenty-five years later, a synthetic form of the compound would enter the US market under the trade name Halaven.
Its effectiveness had earlier been established in a study of 762 women with metastatic breast cancer, extending their survival by an average of several months.
At the time it gained approval by the US Food and Drug Administration in 2011, Halaven was touted to command a US$1 billion-a-year market.
The drug is a superb example of what is called "blue biotech" - and just one of many in a wide-open field that holds enormous potential in everything from health research to aquaculture.
For New Zealand - home to a unique diversity of endemic marine organisms and the fourth-largest exclusive economic zone in the world - the promise is obvious.
One of its biggest champions is Professor Chris Battershill, who holds the chair in coastal science at the University of Waikato and was instrumental in the development of Halichondrin B.
"The most important thing about blue biotechnology is that most of it is relevant to humans, and it is consistent with marine conservation," he told the Herald.
"If we don't conserve biodiversity, we don't have the biochemical leads for the future.
"Many biochemical systems are conserved in nature from way back and have evolved quite sophisticated and flexible chemistry to deal with pathogens and other cellular attacks.
"Now we are in a position where we can learn from these and create synthetic models that become drug leads."
Over the past decade, interest in the area had dropped away as combinatorial chemistry and other synthetic methods came to the fore.
But when the new leads didn't come, science turned back to the blue frontier - the source of the highest chemical diversity on the planet.
Along with drug projects, the marine environment is inspiring a wide range of new applications, among them animal feeds, agrichemicals, new biosecurity agents and biomaterials.
"New Zealand is blessed with very high sunlight hours and highly productive oceans - it's a natural place for us to be growing new targets for not only food, but other high-value products," Professor Battershill said.
"We can take advantage of some of the natural resources we have in a very sustainable manner, and we can do that because many of the ideas we are talking about are actually high-value but low-volume in terms of production.
"The targets can be co-cultured with existing aquaculture, actually enhancing sustainability."
Yet he said there still existed a "canyon" between the discovery and commercialisation of novel new uses for marine resources.
"The proof of concept step is hard to fund as it's perceived as risky, given the market hasn't actually been developed - par for the course with anything new.
"However, if we link it to education and training, there will always be a successful outcome in capacity-building.
"Multi-species aquaculture, for example, is a very obvious concept, but interestingly, both in this country and internationally, it seems to be only just gathering speed."
That's where the Cawthron Institute comes in.
The Nelson-based private research institute works alongside a number of Kiwi companies and is helping keep New Zealand at the forefront of the global industry.
As for closing the "canyon", the institute was striving to ensure this was "no more than a crack at best", chief executive Professor Charles Eason said.
"It's quite unnecessary and as someone who has come from private-sector R&D, I don't see the need for it."
The institute keeps a close eye on local and international markets, with a mission to develop science in line with what industry needs.
"We're always aware that our research has to have a practical application for our commercial and research partners."
One of Cawthron's biggest recent achievements has been its greenshell mussel selective breeding programme, launched in 1993 with industry backing.
Its key goals were to first breed mussels in a controlled environment and, once this was achieved, to set about breeding them for commercially desirable traits.
"It was around 2002 that we became the first in the world to breed the greenshell mussel in a hatchery and from there we set about harnessing the full potential of this valuable export product through selective breeding."
One benefit was a reduced reliance by the industry on wild-caught spat (baby mussels), and a safe and sustainable supply of the species.
Today, commercial-scale production is in the final stages and a pilot-scale hatchery is being built in Nelson by Shellfish Production and Technology.
If the research is successful, the company hopes to expand capacity to produce sufficient spat for 30,000 tonnes of greenshell mussel harvest by 2019.
Cawthron has also found extraordinary applications for algae.
In 2011, it launched Cawthron Natural Compounds, an initiative focused on extracting minute amounts of complex organic compounds sourced from algae and selling them to international markets.
The compounds - natural toxins produced by algae often found in food such as shellfish - are necessary for research and other high-value products such as pharmaceuticals.
Cawthron is one of just a handful of organisations worldwide with the capability to produce these rare, naturally occurring compounds and bring them to market.
Last year, it patented a product called Portimine, a bioactive compound shown to have anti-apoptosis effects, so it could be used in cancer drug research and neurodegenerative disease treatment. The institute has also joined forces with nutraceuticals company Supreme Biotech to grow and extract the high-value algae compound astaxanthin on a commercial scale for the global market.
At its Nelson plant, Supreme Biotech has built large plastic tubes that hang from the ceiling, filled with algae to produce astaxanthin, touted as nature's most powerful antioxidant and used for a range of skin, muscle, eye and joint benefits, with further potential for heart problems.
"To bridge the canyon, it takes forward-looking companies like Comvita, Seperex, Supreme Biotech, SPATnz, Kono and AFL to name but a few, who value research and knowledge and knowhow to use it to their competitive advantage," Professor Eason said.
"We are really lucky as scientists to have companies like this in New Zealand we can work with and who can take our science to market."
Meanwhile, Professor Battershill is helping drive collaboration with other countries to keep blue biotechnology on government agendas.
He and colleagues here, in Australia and in China are putting together packages to show their governments what low-hanging fruit already identified from past biodiscovery investment can be picked.
The Australia, New Zealand, China Blue Biotechnology Alliance was forged last year at the International Marine Biotechnology Symposium in Brisbane to realise research and development collaboration between the countries.
Kiwi research will also be boosted by a planned new coastal biotechnology research centre, with bases in Tauranga and China, and the result of a partnership between the University of Waikato and Yantai Institute of Coastal Zone Research,of the Chinese Academy of Sciences.
With a special focus on aquaculture, biomedicinal and agrichemical discovery and development, and environmental restoration, the new partnership would team up both countries' coastal biotechnology research experts and help bring together investors, industry players and international businesses.
All of it would help reach New Zealand's goal of developing the aquaculture industry to reach a $1 billion sales target by 2025.
"We need to be smart about what to start with, because there are so many things we could do that we could spread ourselves thin very quickly," Professor Battershillsaid.
"But the building blocks are there. It's just a matter of stringing them together."
Pioneering research a 'biologist's dream'
Pulling on your scuba gear and exploring the Bay of Plenty's colourful marine environment might seem an odd way to hunt for the next wonder drug.
But that's just what Sam McCormack hopes each time he sets out with his fins and diving cylinder.
The young University of Waikato masters student is investigating the bio-chemical composition of sea sponges, in an exhaustive effort to classify the huge variety of sea sponges found in the region.
In doing this he plans to find new methods of identifying sponges, which are becoming increasingly important to science because of the anti-cancer properties that some possess.
"I'll head out to beautiful dive sites like Mayor Island, take pictures of sponges sitting in their environment and then cut off a small piece of it and put it in a zip-lock bag," he said. "Then I'll digest it in acid and look at its structural elements, like glass crystals, that can tell you whether it's a different species."
Already, he has discovered several new species, but whether any contain a new novel compound is yet to be seen.
"The rate is usually more than 10,000 to one, so for every 10,000 specimens you collect, you're likely to find one new compound, or drug," he said. "However, in New Zealand we have historically achieved much higher success - more like 500 to one. The dream would be to find a new anti-cancer drug."
Decades earlier, his mentor, Professor Chris Battershill, then at the University of Canterbury, was part of a team that studied a sea sponge compound which would lead to a revolutionary new drug to treat late-stage breast cancer. Three others are in the pipeline.
But sea sponges were notoriously difficult to classify, largely because of their high diversity, and many researchers had simply given up.
"We are basically starting from scratch," Mr McCormack said. "You can collect a sea sponge, pop it into a machine, look at the chemistry and try to find a novel compound which may have activities such as antibiotic, antiviral, analgesic, and antitumour, giving these products great potential for treating diseases like HIV, pain and cancer."
The pioneering aspect of the research was a "biologist's dream".
While there was obvious economic potential in the science, Mr McCormack's passion was driven just as much by the chance of being able to find new ways to help people.
"The satisfaction of that is in itself."