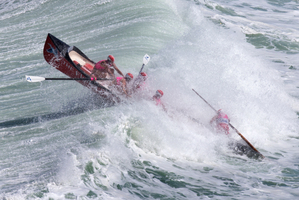 Five surf lifeguards will step into their surf boat in the pre-dawn tomorrow to begin a symbolic three-hour row from Browns Bay on Auckland's North Shore, down the East Coast Bays and into the Waitemata Harbour.
The Red Beach Surf Life Saving Club crew is part of a team of 10 club lifeguards preparing to go to Turkey next year for Gallipoli 100 - a 75km commemorative race between about 80 surf boats from New Zealand, Australia, Turkey, France and the United Kingdom, organiser Chris McCullough said.
Read more:
* Weather will favour Anzac services
* Anzac Day TV: Once more on to the beach
* Forced to the front
* Summer drowning toll rises to 35
The event will honour the 40,000 Allied soldiers and 80,000 Turkish soldiers who died during the failed, eight-month campaign after Anzac troops landed on the Gallipoli Peninsula nearly 100 years ago on April 25, 1915.
Tomorrow, the seven-leg row will begin shortly after the dawn service at Browns Bay and take a course down the coast with six stops for crew changes, to the Viaduct Harbour before ending in Devonport where the crew will attend the morning service and parade, Mr McCullough said.
The surf boat will be accompanied by a Team New Zealand chase boat.

Red Beach crew at the Piha Big Wave Classic. Photo / Brett Phibbs
Early next year surf boats will be shipped to Turkey and several will be handed over to Turkish surf lifesaving authorities after centennial celebrations.
One of the objectives was to continue the training of Turkish surf boat crews, which began in 2010.
Another was to assist in the development of the culture of surf lifesaving in Turkey, which had a particularly poor water safety record with many drownings every year around its stunning coastline.
One of the rowers preparing for the Gallipoli trip, Emma Stuart, 23, said it was important people understood what had happened on Gallipoli and the untold grief caused by war.
"We want the people of Turkey to know we are doing this as a mark of respect for all war dead - theirs and ours - and if we come away with new friends in Turkey and with a new sense of friendship, we will have achieved something special," she said.
The race next year will be on April 23 and 24.
The boats would be launched at Eceabat in the Dardanelles for the start at the narrow Kilitbahir - Canakkale strait, Mr McCullough said.
"Many young New Zealanders who went to war were just like us. They were young, fit, enthusiastic and full of life. Many came back badly wounded, traumatised or broken men. Some never recovered, and their lives were never the same.
"This is something as a surf lifesaving club we can do to recognise the supreme sacrifice the early surf lifesavers made in a war that destroyed lives, families and communities," Mr McCullough said.
- APNZ