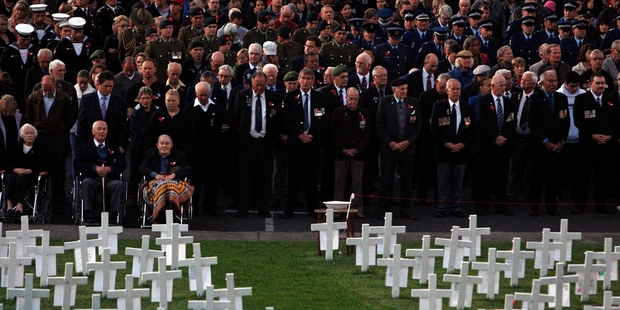 Northlanders can expect dry weather for Anzac Day ceremonies around the region tomorrow, with a warm start to the day forecast for those attending dawn services.
MetService meteorologist John Law said fairly settled Northland weather was expected tomorrow. North-west winds could bring cloud, but sunshine would break them up as the day progressed.
"It looks like a dry Anzac Day for Northland," Mr Law said.
Whangarei RSA president D'Arcy Bailey was delighted to be told rain was not expected to dampen Anzac Day ceremonies. All 8500 members of the 14 RSAs from Warkworth north - particularly the 1900 members and associates in the Whangarei district - were ready to honour the region's war dead, he said. Mr Bailey said there was increasing public interest in Anzac Day ceremonies. Young people in particular want to know about New Zealand's military service overseas. "I've been to four schools this week to talk about Anzac Day, and I've got two more schools to go to after Anzac Day is over."
Anzac Day ceremonies to be held around Northland tomorrow are:
BROADWOOD ceremony at A&P Hall 11am, then march to RSA cemetery followed by shared lunch.
GLENBERVIE Pehiaweri Marae Glenbervie - 10am.
HEREKINO civic service at Herekino Memorial Hall 10.30am followed by shared morning tea.
HIKURANGI Hikurangi School - 10.30am.
HOUHORA civic service at Houhora cemetery 11am.
KAITAIA dawn service at Kaitaia RSA 6am (muster 5.30am); civic service at Te Ahu 11am. Also: Stories from A Company, a production about the 28th Maori Battalion at Te Rangi Aniwaniwa 5-8pm.
KAIKOHE march from Kaikohe RSA at 6am for dawn service Kaikohe Memorial Hall 6.15am (assemble at 5.45am).
KAMO community Anzac service, 10am, Kamo War Memorial Hall.
KAWAKAWA assemble at Kawakawa Museum 9.45am, march to Cenotaph at Johnson Park 10am, followed by refreshments and entertainment at Kawakawa and Districts RSA.
KERIKERI dawn parade at RSA 5.45am; morning parade and service 9.45am.
MAUNGAKARAMEA Maungakaramea Memorial - 10.30am.
NGUNGURU Ngunguru Sports Complex - 6.15am.
MANGONUI service at Memorial Hall 11am.
OKAIHAU service at Okaihau College Hall 11am.
OPONONI service at Hokianga War Memorial Hall 11am.
PAIHIA assemble at Ex-Servicemen's Club on Joyces Rd 5.30am, fall in 6am, march to memorial 6.20am, service at Canterbury Propeller memorial 6.40am, service at Paihia Cemetery 7.30am, followed by breakfast at clubrooms.
PANGURU dawn service at Purerei Cemetery, Waihou, 5.30am, followed by breakfast at Panguru Church and 9am Memorial Mass.
RAWENE service at cemetery 9am.
RUSSELL meet at RSA at 5.30am, bus leaves for Ngaiotonga 6am, dawn service 6.50am, breakfast at Ngatiwai Marae 7.30am; service at Long Beach Cemetery 9.30am; fall in at Russell RSA 10.30am, citizen's service at Russell Cenotaph 11am; march to Christ Church, laying of wreaths at Hazard Grave and Kohatu Memorial Rock 11.30am; Russell RSA for lunch at noon.
TE KAO service at Potahi Marae 11am.
WAIOTEMARAMA service at Waiotemarama complex 1pm.
WAIMA service at 8am.
WAIMAMAKU service at Waimamaku Beach Rd 6.30am.
WAIPU Waipu Presbyterian Church - 11am
WHATUWHIWHI civic service at Karikari Community Hall 11am.
WHIRINAKI dawn parade to Whirinaki Cenotaph 6am.
WHANANAKI Whananaki School - 10.30am.
WHANGAREI Dawn Parade Fall in at RSA - 5.40am.
WHANGAREI Laurie Hall Park Dawn Service - 6.10am.
WHANGAREI Rose St. Memorial - 8 am.
WHANGAREI Hukerenui -Monument RD Tapuhi - 9am.
WHANGAREI Maunu Lawn Cemetery - 10am.
WHANGAREI Kamo Memorial Hall - 10am.
WHANGAREI HEADS Manaia Club - 2pm.
WHANGAROA muster at RSA rooms 9.45am, parade to Memorial Hall, Kaeo, 10am, followed by refreshments at Kaeo Bowling Club.
Kaipara
HAKARU: Hakaru RSA - assemble 10am for service at 11am.
MAUNGATUROTO: Assemble at 5.45am, parade at 6am for dawn service at the Lawn Cemetery.
MATAKOHE: Fall-in 10.30am at Matakohe War Memorial Hall for march to Cemetery Flag, Gun Memorial and War Memorial Hall for wreath-laying, then to Kauri Museum for Paparoa Returned Servicemen's Association and museum combined service.
DARGAVILLE: Dawn service 6am at the Mount Wesley RSA Cemetery.Anzac Day civic service in Northern Wairoa War Memorial Hall 10.30am.
RUAWAI: March to flagpole at Ruawai Tokatoka War Memorial Hall at 10.30am followed by a commemorative service.