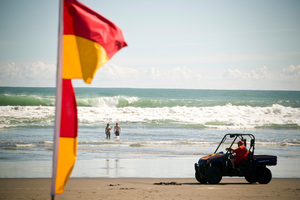 More people drowned this summer than last, and would-be rescuers featured prominently in the toll.
During the official summer period from December 1 to February 28, 35 people drowned, up four on last summer's toll.
Surf Lifesaving New Zealand (SLSNZ) chief executive Paul Dalton said the high drowning toll was disappointing, and the trend of would-be rescuers dying while trying to save a loved one is something he is looking at closely.
Five people drowned off beaches in the summer period, and two of those deaths were women who entered the water to try to rescue their children or partner.
Fiona Gooder drowned at Ruakaka Beach, Northland, on February 2 while trying to save her children who were struggling in the water. The children made it to shore.
Almost two weeks later, Frances Webster drowned at Pukehina Beach, Bay of Plenty, while trying to save her partner from a rip that was pulling him out to sea. He was helped back to the beach.
"It's really sad because they've averted one family tragedy but caused another,'' Mr Dalton said.
"In all situations the person they've been trying to rescue has survived by one means or another. It's been a completely unnecessary tragedy.''
He said the trend was unusual and SLSNZ and Water Safety New Zealand were in talks about whether this was something that needed to be addressed before next summer.
Mr Dalton said more information may need to go to would-be rescuers, who are usually parents or guardians, about the dangers of entering the water to try to save somebody.
Water Safety New Zealand chief executive Matt Claridge urged New Zealanders to focus on three things to be safer around water.
Parents and caregivers needed to supervise children, all primary school aged children should be taught basic survival skills, and men keen on water activities needed to take more care, he said.
"It's an absolute tragedy that 35 families are mourning the loss of a family member this summer.''
Eight drownings occurred while people were taking part in recreational activities in or near water, he said, and men are often complacent near water.
"They have this fantastic attitude about getting out there and amongst it, but [also] a terrible complacency that puts themselves and others at risk,'' he said.
Mr Claridge said two of the deaths were children aged under five. He said Water Safety New Zealand was launching a new campaign targeting parents and caregivers to keep under-fives within arms' reach while in the water this Easter.
"Mums and dads need to stay as close as they can, which means getting in the water with them when their kids are swimming,'' he said.
Mr Claridge said although public swimming pools may have lifeguards on duty, it is safer for all parents to be in the water with their children.
Rescuers who have drowned since 2002
• Suzanne Rowse drowned at Blue Bay, Hawke's Bay, trying to save her son on March 2, 2014 (outside the summer period)
• Frances Webster drowned at Pukehina Beach, Bay of Plenty, trying to save her partner on February 15, 2014
• Fiona Gooder drowned at Ruakaka Beach, Northland, trying to rescue her children on February 2, 2014
• Lita Tarau drowned at Eastern Bay beach, near Whakatane, trying to save her son on December 29, 2012
• Peter Apaapa drowned trying to save his son and nephew at Te Puna, near Tauranga on February 10, 2012
• Zebedee Pua drowned at O'Neill Bay, Auckland, trying to rescue a young girl on January 26, 2012
Read more on water safety:
Kevin Moran: Four words to avoid water tragedy
- APNZ