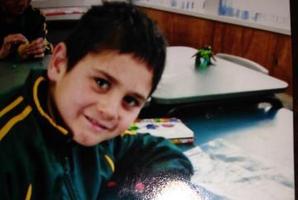 The 9 year old missing boy, Linkin Kuka has been found safe and well at a friends address in Henderson this morning, according to police.
Police were last night searching for a 9-year-old epileptic boy, with grave fears for his safety after he disappeared without his medication.
Linkin left his West Auckland home yesterday morning - his mum April's 37th birthday.
"He left this morning and he said to me, 'mum, I didn't get you a present, but I've got one you can have'," his tearful mother told the Herald on Sunday early today.
"He said, 'I'm going to be good today'. That was the best present he could have given me."
Linkin was off to play with a friend, and expected home later in the afternoon.
He was dressed in grey denim shorts and a dark grey T-shirt, with a purple and black coloured baseball cap with "NY" on the front, and carrying his green MGP brand broken scooter - he was hoping to get new wheels for it.
When he did not arrive home by 5.30pm, his family contacted police.