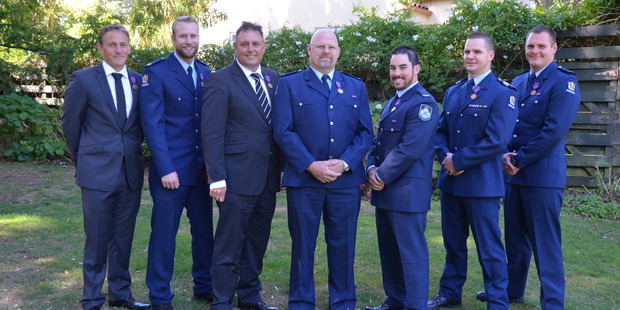 A squad of Auckland police officers who disregarded their own safety to save the life of a fellow officer today received bravery awards for their heroic actions.
That December 2009 morning was still clear in the memories of Detective Gregory Cater, Constable James Collins, Detective Constable Edward Luxford, Constable Johan Mulder, Constable Liam Pham, Sergeant Chris Turnbull and Constable Andrew Warne.
They rushed to the aid of a constable who was shot four times after approaching a suspicious car in a Papatoetoe driveway, pulling him off the property on foot before the Armed Offenders Squad could be called to the scene.
The seven officers today received the New Zealand Bravery Medal for their actions, which saved the life of their colleague.
Speaking afterwards, Mr Turnbull, who led the squad that morning, said there was "no question'' about springing into action.
"At the end of the day we were just doing our job, going to the aid of a mate I suppose,'' he said.
"At the time I didn't really think much about it, it was just, `you've got a job, do it'.
"Looking back you think about what could have been, but it all worked out well.''
He described the honour as a "huge privilege'', and said it was a "special moment'' for the team and the family of the injured officer, who is now fully recovered and back on the beat.
- APNZ