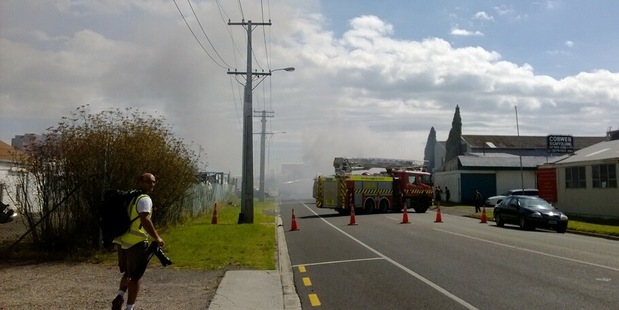 UPDATED 12.39pm: Motorists can now access Sulphur Point this afternoon, following a fire which injured a firefighter and shut down Mirrilees Rd.
A cordon was put in place as firefighters fought to control the fire, which started about 11.25am.
Traffic can now access the area but only through one lane, as firefighters continue to clear the scene.
EARLIER 12.10pm: A firefighter has been injured while responding to a fire at Sulphur Point today.
Northern communications shift manager Scott Osmond said it had received a report of an injured firefighter requiring an ambulance as a result of the Mirrilees Rd fire.
However, Mr Osmond was unable to specify the extent of the injury.
EARLIER 11.52am: Tauranga firefighters are continuing to battle a blaze that has taken hold of a building at Sulphur Point.
About 20m x 10m of the front corner of the building on Mirrilees Rd has been engulfed in flames.
Emergency services have set up a cordon at Cross Rd for traffic while firefighters work to control the fire.
It is not clear at this stage what caused the fire or if anyone has been hurt.
EARLIER 11.38am: Plumes of black smoke can be seen from Tauranga's expressway as firefighters respond to a building on fire at Sulphur Point.
A section of Mirrielees Rd, near Cross Rd, has been blocked off as firefighters work to control the fire.
A reporter at the scene said large plumes of dark smoke can been seen pouring from the building and traffic was being turned away at the cordon.
Extra firefighters have been called for backup.
EARLIER 11.29am: Tauranga firefighters have been called out to a possible building on fire at Sulphur Point.
A northern communications spokesman said the brigade was on its way but could not confirm how serious the fire might be.
More soon.
For more articles from this region, go to Bay of Plenty Times