Six Herald on Sunday reporters and photographers were out with police during a 24-hour period in which the boys and girls in blue responded to 1028 incidents of drunken disorder or violence.
One a minute. That is the grim tally of drunk and violent incidents dealt with by our police through last Saturday night and into Sunday morning - a night when Kiwis should have been happy and relaxed, enjoying a combination of good weather and great entertainment.
While many of us were chilling out at the Homegrown music festival on Wellington waterfront, watching the NRL Nines at Eden Park or dancing to Eminem at Western Springs, the Herald on Sunday was out with the police in New Zealand's cities.
They witnessed some of the 1028 incidents of drunken disorder or violence that confronted police in those 24 hours.
Their night was not so happy.
1.35pm Saturday: Aggravated assault, Wanganui.
2.11pm: Police are called to an aggravated assault on Milton Rd in Orewa, North Auckland.
2.56pm: Police are called to an aggravated assault on Parumoana St, in Central Porirua.
3.30pm: A man is arrested outside the Homegrown festival at Waitangi Park, Wellington. Inspector John Spence says the man arrived at the festival drunk and was uncooperative.
3.45pm: Aggravated assault, Stratford. Police arrest a person for drunken disorder at the NRL Nines at Eden Park - one of 46,000 people in the ground, says David Higgins of Duco Events.
5.46pm: Police are called to an aggravated assault on Queen St, in Central Auckland.
6.30pm:A second person is arrested for intoxication outside Homegrown. Police report people pre-loading and issue 15 instant $250 fines for breaching the liquor ban, most around Waitangi Park.
6.50pm: Police are called to reports of public disorder on Mt Eden Rd, near the Nines at Eden Park.
7.10pm: Aggravated assault, Auckland.
7.33pm: Police are called to an aggravated robbery on Shea Tce in Takapuna.
7.45pm: Police report a small number of arrests and people ejected from the NRL Nines at Eden Park.
8.15pm: A 23-year-old leaving the NRL Nines stops at a party at a nearby Bellwood Ave house. The residents of the house have been drinking throughout the day but witnesses say there has been no trouble until they start to have problems with gatecrashers. The young man is dragged from the property, punches are thrown and the victim is left in a serious but stable condition in hospital with head injuries. A friend of the victim says he was invited to the party - he was not a gatecrasher, and "wasn't any trouble".
8.20pm: Police are called to an aggravated assault in Kaurilands Rd, Titirangi in West Auckland.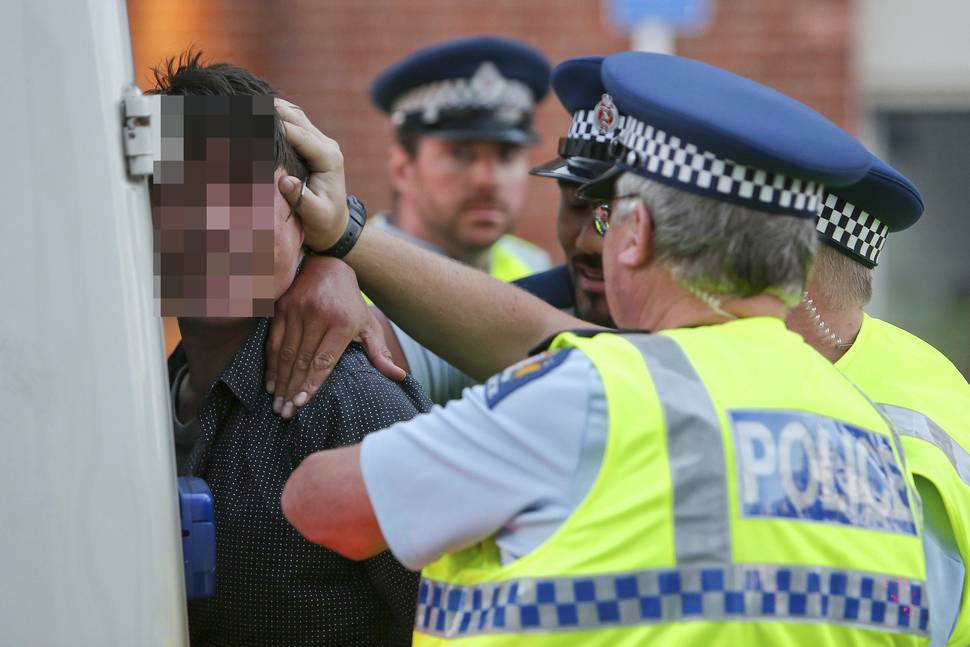 8.21pm:
On Wellington's waterfront, a teenager accused of breaching his bail conditions becomes aggressive when he is confronted by police. Constable Paul Tuala-Fata is forced to restrain the 17-year-old. The youth screams in the police constable's face: "Where are the cuffs then?Where are the cuffs, then?" Tuala-Fata and his colleague force the teen to the ground to ensure he doesn't hurt himself, while they wait for the paddy wagon to arrive. Passersby watch as the two officers struggle to keep the teen from smashing his head on the pavement. "I can't go in a cell, I can't go in a cell" he screams.
8.55pm: Aggravated assault, Tauranga.
8.58pm: Police are called to an aggravated robbery in Te Aro, Wellington.
9.24pm: Aggravated assault, Hamilton. 9.40pm:Police are called to an aggravated assault in Cunningham Pl, Takanini in South Auckland.
10.03pm: A man is behaving aggressively at Homegrown and is restrained by police officers. "There were reports that he may have pushed someone," an officer says. He is thought to be on legal highs, cuffed and thrown in the police van.
10.30pm: Near Southmall in Manurewa, police stop four young men smashing bottles as they return home froma party. They are warned to behave themselves. "Alcohol forms a part of most of our job, even during daytime," police say. "Monday and Tuesday nights aren't much quieter than Saturdays."
10.36pm:
Teenage boys are slouching around, hands in pockets, leaning against the windows of McDonald's at Britomart, downtown Auckland. This is the same McDonald's where Tarun Asthana was king-hit and killed in the early hours of a Saturday morning in November. Tonight, the group are relatively subdued until a passing group of boys a similar age shouts "west side". In a matter of seconds, the group of 16 and 17-year-olds is transformed- they're throwing punches, pushing, shoving. At first about eight are involved, targeting one young guy in a blue cap. He is thrown to the ground and pushed towards the fast-food restaurant's window, where a line of people are sitting on stools, watching and eating fries. Eventually, about 18 teens are involved in the scuffle. It seems they get bored of it and a couple of the fighters start to try to calm it down, saying: "It's all good, let's go." Some are reluctant and keep going back for another punch. McDonald's high-vis-clad security guard comes to the door but doesn't move to get involved. Eventually the two groups tire of each other and start to move on.
10.43pm: While heading back towards Te Papa, Wellington Senior Sergeant Steven Dearns passes a group of teenagers with beer bottles around them. He makes them pour out their beer.
10.50pm: A man enters a liquor store on Russell Rd, South Auckland, through a side or back door. He takes a machete from his sleeve and demands money. He flees with cash. Police recover an abandoned Subaru Legacy soon after.
10.54pm: It takes little more than a raised eyebrow to drag five young people into a pushing and shoving match in the middle of Galway St, near Britomart. The driver looks unperturbed. A young woman is involved this time, and seems to be egging the fighters on, getting the odd shove in herself. Mr Blue Cap is again a driving force, running after people who turn to walk away. A bouncer from a nearby bar pushes him to the ground to break up the fight. The black-clad bouncer then frogmarches him down Galway St and out of sight.
11.00pm: Aggravated assault, Rotorua. At Randwick Park in South Auckland, a man drunkenly abuses a police phone operator. The man is at home with his wife, also drunk. He has finished an 18-box of Steinlager already tonight. Now he is on to his second box. He tells police he saves money by buying it at the supermarket. He is warned to behave himself.
11.08pm: A large group of intoxicated youths are hanging out in a white van in a car-park on Cable Street, in Wellington. The 15-strong group, who say they are from the Hutt, are aged in their late teens and early 20s. The driver is slapped with a $250 fine for breaching the central city liquor ban. One girl suggests to the three police officers: "How about we just line up and you spank us?"
11.10pm: As crowds disperse from the Eminem concert, Auckland police spokeswoman Noreen Hegarty says there is "a little bit of disorder in places" along the streets heading back into town. "We always knew the city was going to get busy at this time of night."
11.23pm: A drunken domestic dispute in Wiri, South Auckland, takes nearly an hour to resolve. A lamp is broken; husband and wife, old enough to be grandparents, have attacked one another. The wife, on home detention, is forbidden to drink, but that hasn't stopped her, or her husband, who has downed 14 "Stein-grenades". The woman is taken to Henderson police station for 22.36pm her own safety.
11.25pm: Three young men, aged about 18 or 19, shout at another group on the other side of Queen St, in Central Auckland. Within seconds there are about 30 teenagers in a mass of flying fists in the middle of the street, pushing towards the big plate glass window of the Body Shop. There is the sound of smashing glass. The fightmoves back across into the middle of Queen St. Police turn up, and the scuffle goes quiet. A man walking past says "Everyone wants to fight tonight."
11.43pm: Police called to an aggravated robbery in Victoria St, Central Christchurch.
11.52pm: Police called to an aggravated robbery in Onetangi Rd, Auckland.
0.03am Sunday: Aggravated robbery in Grey Lynn.
1.20am: Joseph Dignadice has sought the help of officers on the corner of Quay and Customs Sts. He's been punched in the face and there is blood all over his shirt and pants. He's worried there might be permanent damage. After the Eminem concert, he had met a girl from Wellington who had fought with her boyfriend. As she was stranded, Dignadice says he tried to do the right thing, offering her a lift and a place to stay. "She said 'you'd better watch out for my boyfriend'. I saw him and thought 'he's a big guy, he could beat the shit out of me' - and he did." Dignadice says the man cornered him and punched him to the ground. He left while Dignadice was still lying on the pavement. "Not many people would assault a guy for helping out."
1.45am: Police are called to an aggravated robbery in Bluewater Place, Wattle Downs in Auckland.
2.40am: Two guys on the street, give police directions to a drunken domestic dispute further up Russell Rd, Manurewa.
3.00am: In a dead-end street off Roscommon Rd, Clendon, police respond to reports of a street brawl. They find a hysterical woman and a shirtless man who is trying to swear, spit, fight and cry all at once. The couple collapse into each other's arms, sobbing apologies. "I was trying to hit my uncle but I hit my missus instead," explains the shirtless man. The big uncle challenges his nephew to a fight, then sizes up the police officer. He slurps from a can and remarks, "I'm the respectable one in the family." After 30 minutes, the police transports everyone home except the raging, shirtless man. The woman's bruised cheek is obvious, but without her making a statement, nobody is arrested.
3.10am
: In Central Auckland, two couples are walking down Mayoral Drive to their car. One of the young women is extremely intoxicated. It seems she's had a fight with her boyfriend. Police pull up and tell her she's drunk and needs to go home. She protests, pushing her girlfriend away and refusing to go near either of the men. Inspector Gary Davey says it's best to put someone in the cells overnight to sober up, in situations like these "when they're assaulting the people trying to help them." Eventually, the four get into their car and drive off.
3.12am: Police are called to an aggravated robbery in Marne Rd, Papakura.
3.51am: Police are called to an aggravated robbery in Mohaka St, Wainuiomata.
4.27am: Police are called to an aggravated assault in Raumati.
5.47am: Police are called to an aggravated assault in Eyre St, Henderson in West Auckland.
6.10am: Police are called to an aggravated robbery in Riccarton, Christchurch, and to an aggravated assault in Sunlands Drive, Manurewa in South Auckland.
8.45am: Police are called to an aggravated assault in Brightwater Cres, Totara Park in Upper Hutt.
9.40am: Serious violent assault in Aorangi Rd, Bryndwr in Christchurch.
11.06am: Aggravated assault, Far North.
11.33am: Police are called to an aggravated robbery in Braeburn Pl, Takanini in South Auckland.
11.55am: Aggravated assault, Auckland.