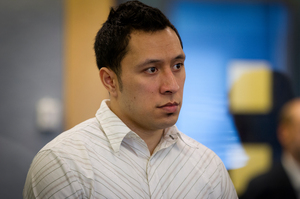 The jury in the trial of an Auckland man accused of killing his two-year-old stepdaughter has retired for the night.
The seven women and five men deliberated for about 4 1/2 hours in the High Court at Auckland today to decide if Michael Joseph Martin, 25, murdered Leilani Mary-Jane Lotonu'u in June 2012.
They will be back tomorrow morning.
The Crown says Martin struck the tiny toddler's stomach with a blow so severe it ruptured an internal organ and a resulting infection proved fatal.
The defence says Martin is innocent and Leilani's mother Amy Lorigan must have been responsible.
After hearing eight days of evidence, Justice Graham Lang summed up today, telling jury members the Crown case was circumstantial and they must be sure Martin delivered the blow and knew he was causing harm that could kill if he was guilty of murder.
A finding of manslaughter was also available, he said.
Earlier today defence lawyer Michele Wilkinson-Smith said the case against Martin lacked evidence and was just a theory.
He did not know who injured Leilani and when told of her injuries was ``lost for words''.
Crown prosecutor Christine Gordon, QC, said in her closing yesterday that Martin struck Leilani when Ms Lorigan was out shopping between about 12 and 1pm on June 9, 2012.
Ms Gordon said Martin's conduct in an interview with police was contrived and lacking emotion.
He did not give evidence at his trial.
Leilani was pronounced dead just before 6am on June 10, 2012, when paramedics were unable to save her.
Martin has also pleaded not guilty to a charge of child neglect for failing to provide Leilani with medical assistance.
- APNZ