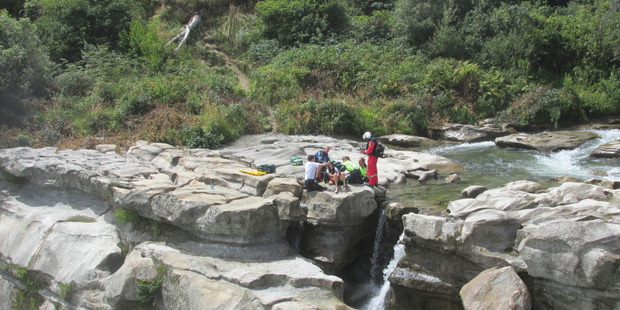 Kayakers who rescued a man who fell over a waterfall near Nelson Lakes National Park today have been praised by police for their bravery.
The 60-year-old Belgium national had crossed over barriers and was attempting to photograph the Maruia Falls when he slipped and fell into a crevasse near the front of the falls about midday.
The kayakers were equipped with ropes and other climbing equipment and lowered one of their party into the crevasse, according to local constable Willy Squires.
They then fashioned a harness out of straps and were able to pull the injured man up out of the crevasse and onto rocks above the falls.
"What they did to get the man out of danger was incredibly brave," Mr Squires said.
"The three kayakers did all the right things to care for the man. They had him stabilised on the rocks with his head and neck supported.
They had everything under control.
"This man is very lucky these men were on the spot and had the skills to save him."
The man had been submerged for a short period and suffered shoulder, spine and head injuries.
"I'd say he can thank these young men for saving his life today," Mr Squires said.
"If they hadn't been there, the outcome could have been very different."
He said the injured man, who was airlifted to hospital, was a visitor travelling in a camper van with one other person.
- APNZ