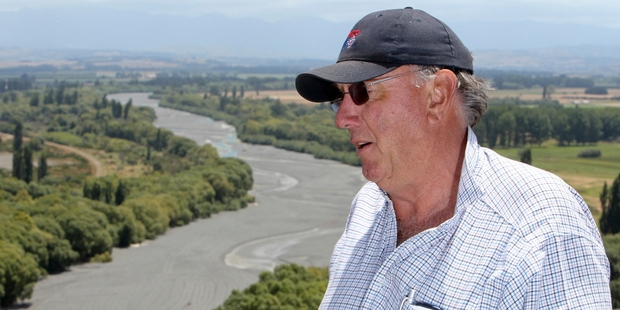 Central Hawke's Bay Mayor Peter Butler says he will stop writing a "private" weekly email newsletter after a "slimeball councillor" circulated comments he made criticising Ngati Kahungunu chairman Ngahiwi Tomoana.
Mr Butler devoted much of last week's issue of the newsletter to describing a tour of Central Hawke's Bay he arranged for Hawke's Bay Today.
The trip was to showcase the economic benefits of irrigation in the district and was arranged after Mr Butler expressed frustration at the paper's coverage of the Ruataniwha dam project.
He said media coverage of the proposed water scheme was dominated by concerns raised by opponents of the project and there was little coverage of the economic benefits it would bring to Central Hawke's Bay.
Mr Butler's email described visits to farms and other operations where the owners outlined the value of having irrigation available to grow their businesses and to employ more staff.
"What I want to know is how many of Ngahiwi Tomoana's mates are employed because of these four properties and when did you last see one of his mates swimming in the Waipawa or Tukituki Rivers, let alone fishing in them," Mr Butler wrote.
"If 'the dam' goes ahead he and his mates should be banned from any employment pertaining to it."
Mr Tomoana said he was very disappointed at the comments. The iwi supported activities on the Tukituki River and its stance against the dam was aimed at protecting the waterways.
"Ngati Kahungunu Iwi invested over $16 million in 2013 purchasing Tautane Station located in Central Hawkes Bay/Tararua and have secured Taratahi Agricultural Training to provide training on site.
"We have a lifetime commitment to this region and that has never changed," he said.
"Peter Butler has only singled out Maori and not mentioned or referred to Fish & Game, Forest & Bird or the Environmental Defence Society [who have also opposed the dam] which strongly suggests his statements are race-based, which is a disappointing statement from a leader."
Mr Butler said the private weekly newsletter had only been sent to Central Hawke's Bay councillors and he would stop writing it now that "some slimeball councillor" had chosen to forward it on.
He said the comments about Mr Tomoana had been taken out of context and were in response to a particular newspaper article about Ngati Kahungunu's submission to the board of inquiry that was published on the day he sent the email.
"It was them that had been written about that day."
For more articles from this region, go to Hawkes Bay Today