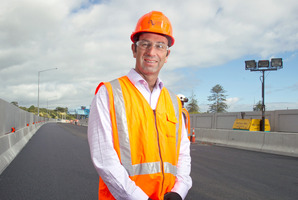 South Auckland communities have been assured a potential new motorway, which they feared may cut through more than 100 homes and several schools, will give them a wide berth.
Four options for the motorway have been on the table but Auckland Transport and the Government's Transport Agency last night said three were being put aside. Instead better freight connections for the industrial hub from Onehunga to Penrose will be provided to the north of Manukau Harbour.
"Our focus on the north side is the key priority for our two organisations for at least the next decade," Auckland Transport executive Rick Walden said, after a meeting at Wymondley Road School in Otahuhu, whose staff and parents had feared may be in the way of a $1 billion motorway.
"No new major road links will be progressed on the south side of the Manukau Harbour between State Highway 1 and SH20 at this stage."
Transport Agency acting highways manager Steve Mutton said evidence highlighted the economic importance of the Onehunga-Penrose area, and that improving access for freight would be important for Auckland's growth.
Auckland Business Forum chairman Michael Barnett said the economic importance of the area demanded far more than an upgrade of existing roads.
Prime Minister John Key included an east-west freight link in an $11 billion-plus list of Auckland transport projects for which he last year promised Government funding.