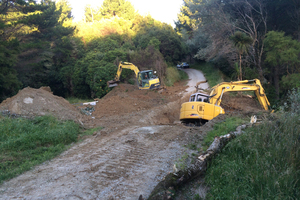 The Gisborne city water crisis has eased today but water restrictions will continue.
A week ago the city's main water pipe was snapped in two by a big landslide at Waingake and the district has been under severe water restrictions since then.
Gisborne District Council deputy chief executive Peter Higgs says Gisborne people achieved fantastic water savings over the weekend, keeping under the target of 14,000m3 per day, and the pipe has been reconnected but its capacity is still being tested.
The city's main water user Cedenco Foods started its sweetcorn harvest yesterday and water use by Cedenco and other industry will continue to increase over the next couple of weeks as the processing of horticultural produce ramps up.
Mr Higgs says no decision has been made on what medium-term water restrictions will be required. The hose ban is still in place and some water conservation is likely until the end of summer.
An aim when planning repair of the water supply pipe is to avoid any disruption to industry, which is vital for the Gisborne district. At this stage that looks like it will be achieved, he says.
"Processing industries are one of Gisborne biggest employers, bringing millions of dollars of revenue into the district. Any disruption to their production capability would mean loss of income to employees."
Reinstatement of the pipeline made considerable progress over the weekend. Water flow through the repaired pipeline was tested at a reduced flow of 300m3/hr.
"This process will take days. It's not just a matter of turning the water back on. The testing involves slowly increasing the pressure on the welded section of the pipeline to check for leaks. There is approximately a 15-minute delay as the water travels 12km from the dam to the Waingake Treatment Plant.
"We are also checking the welded joints for weeping. If there is weeping then the flow is shut off, the pipe drained, welds fixed and the process starts again. To help keep the pipe stable, anchor piles are built to support the pipes. Two seven-metre-deep piles have already been constructed to restrain and support the pipe. These require considerable earthworks which are continuing today."
This week, some water from the Mangapoike dams will gradually be added to the supply sourced from the Waipaoa River and treated through the Waipaoa Treatment plant. This water is described as 'hard water' with higher levels of calcium and magnesium than the soft water normally supplied from Mangapoike dams.
From today water carriers can cart water to those not on town supply and running short.
People can still use bore water to water their grounds and gardens, and can get an official sign from the council to let people know.
Mayor Meng Foon thanked the community for acting quickly to reduce water consumption.
"It has made this situation much easier than it would otherwise have been."