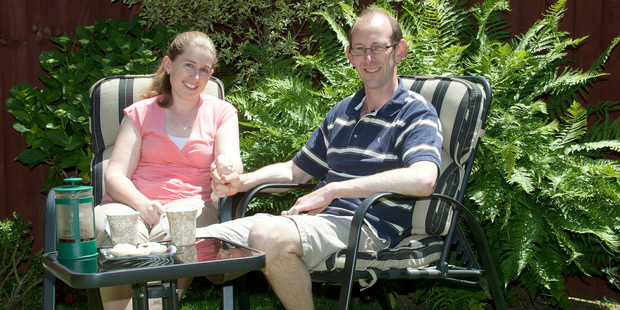 David Bain is today set to marry fiancee Liz Davies - and the couple have rebuffed some big women's magazine offers.
The small number of guests, including Mr Bain's closest ally and long-time friend Joe Karam, have all been sworn to secrecy but APNZ can confirm the couple will wed today.
Mr Karam, a former All Black, gave little away about the big day.
He said he was "looking forward to the wedding" and is not the best man, but wouldn't provide details.
"I'm very supportive, but I've been asked by the family not to give anything away," Mr Karam said. "They've decided to keep it private, so it's up to them."
Mr Bain and Miss Davies have turned down some lucrative, "quite significant" offers from women's magazines in favour of a private wedding, Mr Karam said.
"David and Liz were offered big money by all the women's magazines but they turned it down because they wanted a private wedding," he said.
A source with knowledge of the industry said a women's magazine cover with photos and stories inside could attract $30,000 to $50,000 for a high profile subject, such as Mr Bain.
There was no answer at the couple's small back section flat in Casebrook, Christchurch, yesterday.
Miss Davies, a primary teacher at Cotswold School in Christchurch, and Mr Bain, aged 40, have not spoken publicly about their relationship.
Mr Bain was convicted in 1995 of murdering his parents and three siblings and spent 13 years in jail before he was acquitted after a 2009 retrial. He is waiting to hear if he will be awarded compensation from the Government.
When the couple got engaged, Mr Bain's future mother-in-law Carolyn Davies said she was "delighted" to welcome him to the family.
Mrs Davies visited him in prison and billeted him during his second trial in the High Court at Christchurch.
Meanwhile, All Blacks star Aaron Cruden is understood to be about to wed longtime girlfriend Grace King.
It is believed he had his stag-do in Taupo two weeks ago.
The pair are understood to have signed an exclusive deal with a women's magazine for the right to cover their wedding, believed to be in Manawatu in the next few days.
Woman's Day reported their engagement in August last year, with Cruden saying King's support as he battled testicular cancer proved she was the right girl for him.
Cruden's All Blacks teammate Israel Dagg announced his engagement this week. "Happy to announce that I am now engaged to my partner of nine years Daisy Aitken," Dagg said on Twitter.
- APNZ, Otago Daily Times