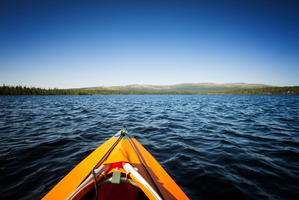 A father and son have been found safe and well this morning after spending a night at the base of a cliff following a kayaking trip that went wrong off the Canterbury coast.
The pair, aged 46 and 17, took their kayak to Sumner, Christchurch to go kayaking some time after 10.45am yesterday and failed to return.
Their stationwagon was later found still parked at the Sumner lifeboat park and a search was launched.
The pair were found in a small cove on rocks below a cliff off Godley Head about 5am today, Search and Rescue co-ordinator Detective Logan Penrose said.
"They were in good condition. They were wearing wetsuits yesterday and had lifejackets. They were pretty hungry and a little bit cold but otherwise well," he said.
The pair had left Sumner and paddled to the Lyttelton Heads area where they fished for a while before deciding to paddle back.
But the wind had changed and they were unable to make headway in heavier seas. They capsized a couple of times and lost a paddle.
"They then decided that the safest option for them was to head over to the nearby rocks and to make landfall there and wait for the weather to change, which of course it didn't," Mr Penrose said.
He said the pair had been equipped for a shorter trip and the one they made may have been beyond their fitness levels and experience.
A communication device would also have been useful. "They have been well-informed of that. They also needed to make better intentions with their relatives because this was reported quite late at night which made our search much harder," Mr Penrose said.
- APNZ