'Tragedy' as flames engulf beachside area planted in mature pohutukawa at Karekare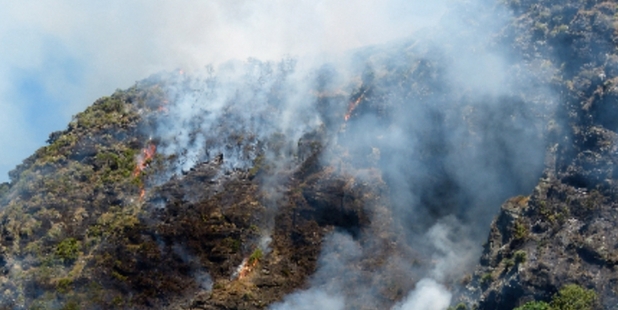 A blaze that raged through 20ha of hand-planted pohutukawa forest yesterday has struck a blow to the small community of Karekare Beach on Auckland's west coast.
The fire was on a sheer and crumbling cliff face above a popular waterfall in the hills east of the beach and is thought to have been started by a discarded cigarette.
"We watched 20m-high flames racing up Cave Rock towards the Waitakere Ranges Park," said resident and historian Sir Bob Harvey. "A desperate battle was on going to stop the flames going over the cliff and to the bush of the ranges beyond."
He said the fire had taken mature pohutukawa of 30 to 40 years old planted by the community on land bought to add to the park.
"We have lost precious heritage," Sir Bob said. "It's a major tragedy for the Karekare community."
At the height of the blaze, in mid-afternoon, it was fought by two helicopters using monsoon buckets and fire crews from seven villages in the ranges, said Fire Service senior communicator Nicole Bernard.
Crews were alerted to the blaze at 1.30pm and came from Karekare, Piha, Waiatarua and Bethells Beach as well as Glen Eden and Titirangi.
The fire was nearly out last night.
It was never a threat to homes scattered in the bush in the community of about 200 people.
Ms Bernard said the cause of the fire had not been established.
But residents recall a similar fire 30 years ago in a nearby grove.
"It was started by a cigarette, which we think was the cause of this one, and surf lifeguards and the volunteer fire brigade headed it off," said Sir Bob.
"But this time, we are waiting for a helicopter to put on the monsoon bucket ... They are hampered by the steep terrain."