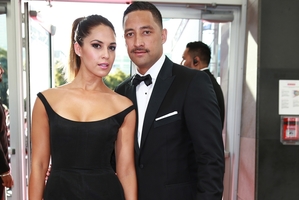 Benji and Zoe Marshall may be New Zealand's hottest A-List couple, but somebody forgot to tell Auckland burglars.
The new Blues star and his glamorous wife, who moved to Auckland about a month ago, have previously spoken of how excited they were to move to the City of Sails from Sydney.
But their bubble was burst this week. Sources close to the couple confirmed the burglary at their St Heliers home.
Yesterday Marshall didn't want to talk about it. "I like my privacy and I don't want to talk about that sort of stuff."
The former Kiwis captain said he was preparing for a night in front of the television with about 20 mates he had invited over to watch Fight For Life.
The West Tigers league star switched codes to join the Auckland Blues after being wooed by coach and former All Black star Sir John Kirwan.
His Australian-born wife Zoe, 29, has landed a role hosting a new TV3 cooking show The Great Food Race which will air next year.
Before crossing the Tasman permanently, Zoe told the Herald on Sunday how keen she was to settle here. She said she loved Auckland's restaurant scene. "We're going to be very happy."
They've attended a number of red-carpet events, including the Vodafone Music Awards but on Wednesday decided to forgo the twilight races at Ellerslie because of the burglary.