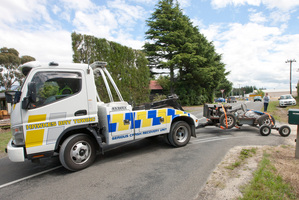 A 17-year-old boy killed this week on a Hastings orchard was a bright, ambitious kid with it "all in front of him" just days after finishing his final year at high school.
Ira Gannaway-Gardner died after he fell from a home-built vehicle on the Twyford Rd orchard about 11.30am on Tuesday.
Yesterday the Napier Boys' High School student was remembered during the end-of-year prizegiving.
Principal Ross Brown said Ira was due to accept the commerce and humanity award, the first time the award was presented.
"He was a delightful kid, very ambitious."
Mr Brown said the 17-year-old was to attend Victoria University next year to study commerce.
"There was a powhiri and a very powerful haka that was led by the prefects. It was a very emotional time."
He said a number of fellow students were also orchard workmates with Ira.
The school's Year 13 dean, Anne Millward-Brown, said Ira's sister received the award on his behalf.
"It was a very emotional time. To lose a boy is just awful."
She described Ira as a "very bright, hard worker" who was well liked by all students and staff members.
Police and the Ministry of Business, Innovation and Employment are conducting an investigation into the accident.
For more articles from this region, go to Hawkes Bay Today