Drivers who crash on open roads during the Christmas and New Year holidays are more likely to be injured than at other times of the year, unless they are in the Auckland area, says a police risk report.
While some regions become statistically safer in terms of the average number of injury crashes, the proportion of crashes on open roads that result in injury increases from 39 per cent year-round to 54 per cent over the holiday period.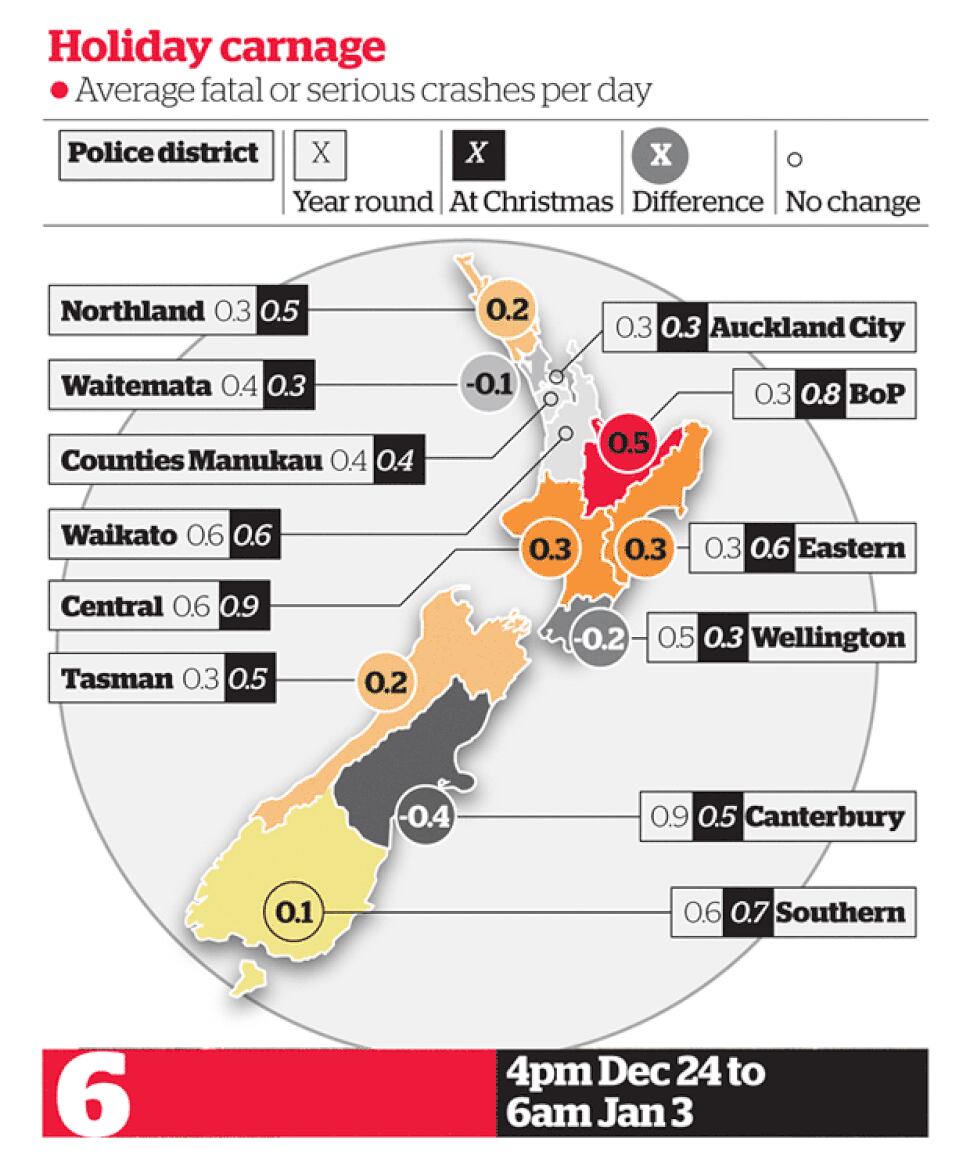 For serious or fatal crashes, this increases from 51 per cent to 66 per cent.
Only in the Auckland City police district does the proportion drop slightly, as those commuting to work instead drive to holiday spots.
A combination of higher speed and more traffic on rural roads is to blame, says the national manager for road policing, Superintendent Carey Griffiths.
"There are more injury or fatal crashes in rural environments because vehicles get up to the 100km/h mark.
"So if you leave the road, you'll strike another vehicle, you'll hit a tree, end up in a culvert, roll down a bank
"Over the holiday period there is a whole bunch of vehicles from an urban environment, where speed is slower because of congestion, travelling on the open road.
"And the consequences on a rural road are far more likely to be serious."
Police will be out in force on rural roads, said Mr Griffiths, as well as closely enforcing the lower "tolerance" for speeding of 4km/h above the limit for December and January.
The national crash risk report obtained by the Herald also pinpoints the regions where the average number of daily fatal or serious crashes increase over Christmas.
Traditional summer holiday destinations such as Northland (0.3 injury crashes year-round per day rising to 0.5 during the Christmas holiday), Bay of Plenty (0.6 to 0.8), Eastern (0.3 to 0.6) and Tasman (0.3 to 0.5) become statistically moredangerous.
The average number of serious crashes also increases in the Central District (0.6 to 0.9) because it is a central route for holidaymakers moving north from Wellington, while Waikato has a slight increase in injury crashes because it contains holiday destinations Raglan and Coromandel and is a transit district.
Those higher crash risks lead to a corresponding drop in metropolitan areas such as the Waitemata, Auckland City, Counties Manukau, Wellington and Canterbury.
Traditionally, Christmas Eve has the highest crash risk with a peak between midday and 5pm that is attributed to "last minute" travel to Christmas Day locations.
But the police are expecting that this year, holidaymakers may take annual leave on Monday December 23, to take a longer break, and shift the peak period to the weekend of December 21 and 22.
Mr Griffiths urged drivers to be well rested, to avoid driving when they are normally asleep and to expect journeys to take longer than usual.
"Please don't get impatient and hot under the collar because the traffic is not moving quickly.
"Otherwise people get angry and do stupid things. Then it gets ugly for everybody."