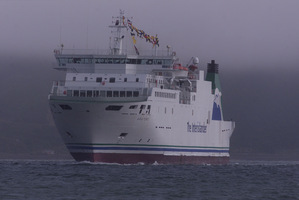 The propeller missing from the Cook Strait ferry Aratere has been recovered.
A remote-controlled underwater vehicle pulled the propeller to the surface this afternoon, KiwiRail confirmed.
"The propeller was retrieved from a depth of around 120 metres and approximately two nautical miles from Tory Channel using strops that were fitted around the blades of the propeller and part of the shaft ..." a statement from KiwiRail said.
The 6-tonne propeller was then secured to the stern of the salvage vessel Brandywine and taken to Picton before being loaded onto the deck of the vessel by a crane," said Interislander General Manager Thomas Davis.
"The propeller will be brought back to Wellington by Seaworks tonight where it will undergo a comprehensive examination by both TAIC and Interislander."
The propeller dropped off the Aratere when the shaft broke on November 5 outside Tory Channel.
On November 23, Seaworks used multibeam echosounder sonar equipment and a remote controlled underwater vehicle with cameras to find it.
The salvage attempt followed modifications to the recovery vessel. The timeframe also took into account weather conditions and other operations being conducted by Seaworks.
The propeller would cost around $200,000 to replace, KiwiRail said.
- APNZ