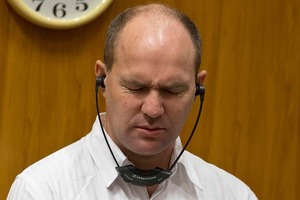 Convicted child killer Jeremy McLaughlin is appealing against his conviction and sentence for the murder of Christchurch schoolgirl Jade Bayliss.
Last month McLaughlin was sentenced in the High Court at Christchurch to life imprisonment with a minimum non-parole period of 23 years.
Today, the Court of Appeal confirmed he had filed appeal papers. No date had been set for the hearing.
McLaughlin has always denied murdering 13-year-old Jade - his ex-partner's daughter - on November 10, 2011.
In April, a jury of seven women and five men found him guilty of murder.
The 35-year-old had denied strangling Jade with a piece of cord, stuffing socks in her mouth, dousing her house in petrol and setting it ablaze.
After the trial finished, McLaughlin's earlier criminal history was revealed.
In Australia in 1995, he bashed 14-year-old Phillip Vidot with a cricket bat, and a colleague ran over the boy in a car.
The teenager died, and Mclaughlin was sentenced to 12 years in jail for manslaughter. After four years he was deported to his native New Zealand in 2001.
News of McLaughlin's prior history sparked calls, endorsed by Justice Minister Judith Collins, for better sharing of criminal convictions between Australia and New Zealand.
McLaughlin's flatmate, Jolon Erin Sweeney, 42, was sentenced in June to 200 hours of community work for his role in helping McLaughlin try to get away with the burglary and arson of Jade's home.
After he was sentenced, Sweeney said he hoped McLaughlin never got out of jail.
"I've got a young boy ... and I don't want my son to be one of his next victims.''
- APNZ