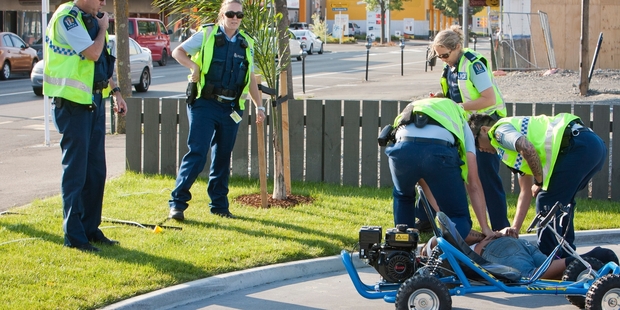 A man who went on a joyride through Hastings on his newly purchased go-kart has been fined $350 and disqualified from driving for nine months.
Moses Junior Vave, 22, appeared in the Hastings District Court yesterday where he was charged with dangerous driving and failing to stop for police.
He entered guilty pleas to both charges.
Duty lawyer Alan Cressey told the court his client had been visiting from Australia and had purchased the kit set go-kart in Auckland before deciding to test it out in Hastings.
The court heard that at about 5.45pm last Thursday, Vave was spotted by a member of the public who noticed he was driving erratically and not wearing a helmet.
He was pursued by police through various inner city streets and reached speeds of up to 60km/h.
A police summary of facts said at times he crossed the centre line, drove on the footpath and failed to slow down at stop signs.
Vave turned and looked behind him a number of times and smiled and laughed at police in pursuit.
He was eventually arrested in the drive-through of the newly-opened Carl's Jr restaurant.
Police impounded the go-kart for 28 days.
Mr Cressey said Vave had panicked when the police signalled for him to stop and "didn't know what to do".
He told the court adrenaline had kicked in.
Judge Bill Hastings said there were places where go-karts could be driven legally and noted that at 5.45pm there would have been a number of cars on the road and people on the street.
He fined Vave $250 for the dangerous driving, a further $100 for failing to stop and court costs of $130.
He ordered Vave to pay the fine before leaving the country.
For more articles from this region, go to Hawkes Bay Today