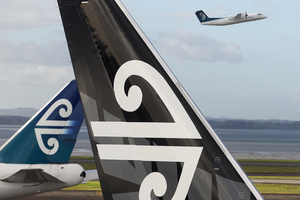 An Air New Zealand flight from Auckland to Tauranga was diverted to Hamilton this afternoon after a problem with the aircraft's landing gear.
An Air New Zealand spokeswoman said flight NZ2710 was diverted due to an issue with the automatic system controlling the landing gear.
"The landing gear was deployed using the back-up manual system which is designed for this purpose.
"The aircraft is now being reviewed by engineers and customers on this service will be transported the rest of the way to Tauranga by road."
There were 18 passengers were onboard the Beech 1900D aircraft, the Air NZ spokeswoman said.
The engineering issue would result in the cancellation of two services this evening, she said.