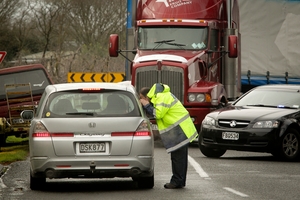 A father who led police on a high-speed chase through Hastings with his 15-month-old baby son unsecured in the front seat of his car has been sentenced to jail.
Charlie Ngapera, 32, appeared in Napier District Court last month where he entered guilty pleas to charges of kidnapping, reckless driving, threatening to kill, assault, criminal nuisance and theft.
In the Napier District Court today, Judge Bridget Mackintosh sentenced Ngapera to two years and seven months' imprisonment.
She said the offending was an "appalling state of affairs".
Judge Mackintosh took into account remorse and positive reference letters written in Ngapera's favour.
She accepted a submission by Ngapera's lawyer, Nicola Graham, that the offending was out of character.
The court heard Ngapera had had an argument with his partner that turned physical on August 2.
He followed her around the house, assaulting her and threatening to kill her with a knife from the kitchen before she made up an excuse about a doctor's appointment to escape, leaving the couple's young son with Ngapera.
The partner went to the police station and contacted a friend to meet her there.
Ngapera followed his partner to the police station, bringing the child with him, and was approached by the friend outside.
She asked Ngapera to leave the baby with her but when he refused she got into the car.
The woman was seated in the front seat of the car, with the baby at times balanced on Ngapera's lap or on the centre console.
The court heard Ngapera reached speeds of up to 180km/h along Marine Parade and along the Meeanee-Awatoto road.
On several occasions the woman tried to get hold of the infant but each time Ngapera pulled him back on to his lap and released him when he needed two hands to drive the car.
A police summary of facts said he told the woman that he intended to take her and his young son "down with him".
After some time, Ngapera briefly stopped the car and the woman attempted to get out.
Ngapera caught her and dragged her by her hair back to the car, before attempting to shove her in the boot as she called out for help.
After hearing police sirens, Ngapera jumped back into the car and swept his arm across the infant "throwing him violently" from the driver's seat across to the passenger seat.
The woman was left behind. She suffered from pain to her head, grazes to her feet, elbow, torso and lower back and lost several clumps of hair.
Ngapera led police on a chase at speeds of up to 130km/h before stopping the car on Ngaruroro Ave in Whakatu and attempting to get away on foot.
He tried to disguise himself by taking a sweatshirt from a truck and requested a ride from an unknown woman. He was caught at a police cordon.
The young child suffered grazes to his knee and chest and was "very unsettled".
For more articles from this region, go to Hawkes Bay Today