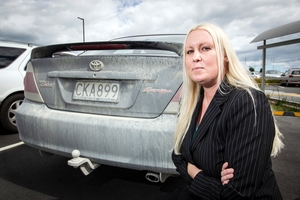 A commuter is fed up after repeat dust-ups with officious parking wardens.
Irene Coleman drives from Tapora, northwest of Auckland, to the Albany Park 'n Ride every day. The journey is entirely within Auckland's Supercity boundaries but includes an 8km stretch of unsealed road.
Unsurprisingly, her car is dusty by the time she reaches Albany, and Coleman has received three handwritten "warnings" on Auckland Transport stationery telling her to clean her registration plate. "You are looking at a $200 fine," one notice stated.
Coleman was dumbfounded, not least because the dust came from an unsealed road her neighbours had been lobbying council to fix. "It's insult to injury, considering the amount of damage they have done to my car," Coleman said. She also said the wardens were acting outside their legal powers. Coleman contacted the council to complain but she continued being harassed about the car.
Coleman said some Tapora roads were so bad the council wouldn't allow its own vehicles to use them. "They said their trucks wouldn't come down our road because it's listed as a hazardous road."
Coleman said taking her recycling involved a 20km round trip.
Auckland Council confirmed its fortnightly recycling collection did not serve two Tapora roads. It was reviewing this but expected current service arrangements to remain until July 2015.
Disgruntled residents of the city's northern periphery have formed the Northern Action Group. The group wants a new North Rodney council based in Wellsford.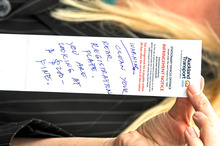 Wardens on the prowl
Sharon Hunter of Auckland Transport said police or AT officers could issue a $200 fine for obscured licence plates.
Using unauthorised, deceptive, or obscured registration plates is an offence.
AA spokesman Mark Stockdale said wardens were permitted to enforce rules around warrants of fitness and licences as well as enforcing parking regulations.
Stockdale said complaints around dusty number plates were unusual but drivers could keep a damp chamois in the boot to wipe down plates after travelling on gravel roads.