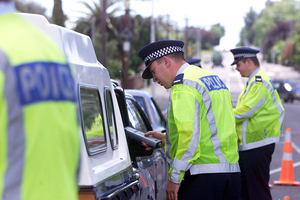 Long-distance swimmer Philip Rush has been sentenced to community work and disqualified from driving after he was caught behind the wheel at more than twice the legal alcohol limit.
The 50-year-old, who is also a professional firefighter, was charged after the incident in the Wellington suburb of Miramar on August 13.
He returned a breath alcohol reading of 829 micrograms per litre - more than twice the legal limit of 400mcg/l.
Rush, who has three previous drink-driving convictions, was sentenced in Wellington District Court today after earlier entering a guilty plea.
Defence lawyer Andrew Davie said the offending had taken a great toll on Rush's life and he was ashamed to be back in court.
He said Rush had been at a friend's celebration and had drunk more than he usually would. He had since undergone alcohol counselling.
Judge Susan Thomas ordered Rush to complete 140 hours of community work and disqualified him from driving for one year.
She noted Rush's achievements in swimming and in the community, as well as his work as a firefighter.
"So it is certainly a significant shame, and I am sure you take it as a personal shame, to your standing today."
Rush has three previous convictions for drink driving in 1998, 1996 and 1989.
Judge Thomas said the last conviction was 15 years ago, and he had since sought help for his drinking.
She noted his volunteer work for Swimming New Zealand, which involves mentoring young swimmers, and said he was able to complete some of his community work doing that.
Rush is the world record holder for the fastest two- and three-way swim of the English Channel, a feat he accomplished in 1987 in a time of 28 hours and 21 minutes.
He was also the first person to complete a double-crossing of Lake Taupo, in 1985, for which he still holds the record time.
Rush has crossed the English Channel on 10 occasions and the Cook Straight eight times.
- APNZ