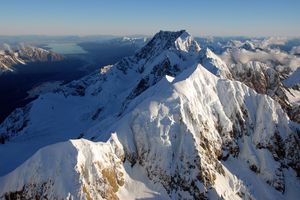 Skiing down the treacherous, avalanche-swept Caroline Face of Aoraki-Mt Cook has become a goal for some of the world's most highly-skilled extreme skiers.
But after the death of Swedish extreme skier Magnus Kastengren on the country's tallest mountain on November 3, one mountain expert has questioned whether the face will ever be skied top-to-bottom.
Mr Kastengren's death follows six other mountain fatalities since mid-August. The Mountain Safety Council says some of the cases appear to have involved common mistakes that it tries to help people avoid through its safety code, such as setting a final time for turning back even if the summit isn't reached.
Mr Kastengren's ski partner, Andreas Fransson, has written that on their way down the mountain after skiing the East Face and another extreme route, they spied a good line down the Caroline that was in perfect condition.
"The biggest line in New Zealand and one of the greatest, yet unskied lines in the world was standing there with its solution in front of us and we were looking at each other like we had got the greatest Christmas gift in the world presented for us."
They continued down to Mt Cook village, organised their gear for another trip and flew back to Plateau Hut. They climbed the East Ridge and conditions were "perfect, both for climbing as well as for everything we could see of our planned route down".
On the summit ridge, preparing for their descent, they found the snow hard but the skiing easy and not at all steep.
Mr Fransson was in front. He looked back, expecting to see his partner, but only his ice-axe remained. In fact, he had slid and fallen down the other side of the ridge, to the Empress Ice Shelf hundreds of metres below.
"His axe seemed to have been [swung] into the snow, but he must have lost his grip around it ... I collected his axe and climbed down a bit on the western side. I could see a [ski] pole on a shelf 100m below."
Mr Fransson called for a rescue on his satellite phone and climbed and skied down to his friend, who was dead.
The council's alpine programme manager, Andrew Hobman, a former leader of the Aoraki-Mt Cook search and rescue team, said the Caroline Face was "not really a great skiable line", and was threatened by ice-cliffs.
A Red Bull-sponsored team climbed the mountain to look at skiing the Caroline several years ago but decided not to, and Italian skier Freddy Varengo said he was interested in skiing the Caroline too.
Mountaineer Graeme Dingle, who was in the second pair to climb the Caroline in 1970 after four deaths on the route in the 1960s, said the face would be skied eventually, although it would be extremely dangerous.
"It's right up there. You make one blue, catch an edge or hit a lump of ice and you're gone and you're not going to recover."
Mr Hobman said that despite the dangers, such activities should not be restricted - because competent extreme skiers went to great lengths to mitigate the risks they faced, and because "that's how we keep pushing the limits of humans".