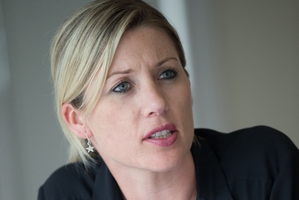 Production co-ordinator Dot Kyle never expected a career in film and television would offer a 9-to-5 routine or a weekly pay cheque. Yet the screen industry's flowering in the last 20 years did bring job security - and a husband, in special effects whiz Sven Harens.
But the industry's air of permanence has proved as illusory as a film set. The downturn of the past 18 months is forcing Kyle to look seriously at leaving the country - joining her husband who has already gone, and leaving two children behind to continue their schooling.
Harens has a growing reputation in special effects, ranging from pyrotechnics to sci-fi firefights or a graphic blood-splatter. He's worked on Peter Jackson movies stretching back to The Frighteners; his work on LOTR: The Return of the King was award-nominated. Other credits include Van Helsing, X-Men3 and The Legend of Zorro. Kyle's production management work stretches from River Queen to Evil Dead but her staple is television commercials and occasional TV productions.
This income is not enough to sustain the family, with her daughter Mya about to start secondary school and their son Sebastien starting school next year. Harens has spent the past four months in Spain working on Ridley Scott's Exodus - but filming finishes next month.
With no work to come back to in New Zealand, Kyle is agonising over whether to seek work in Britain, where her Dutch husband can rely on his EU passport.
"Do we sacrifice our marriage to be away from each other for that length of time or do the children suffer? It's no simple matter to shift them overseas, and I have no job to go to. On the other hand, there's a saturation of people vying for small jobs in Auckland. More and more people are having to leave to work overseas."
Such wrenching decisions are facing couples and families throughout the country, because the large-budget, overseas-funded film and TV productions which drove the industry's expansion have dried up and there's no sign of them coming back. In an industry of mainly small and individual contractors, everyone knows someone who is working overseas or finding work in other industries from trucking to farming to IT.
New Zealand's high exchange rate going back several years has been a big factor in the pull-out by foreign studios. But the industry says its fate has been sealed by the Government's decision in August not to budge on incentives, which have a huge bearing on where film companies choose to shoot and which have been progressively raised by rival countries.
Other industries endure seasonal downturns and are vulnerable to international market swings. Key differences for the film industry include the pivotal role of incentives and what charitable critics say was a poorly-informed Government review.
"People were in awe of the New Zealand industry and everybody wanted to come and film here," Kyle says. "The level of creativity is just amazing; we have fantastic skills and locations.
"But at the end of the day it does boil down to money. We don't necessarily have to match what the rest of the world is offering but at the moment we are not even putting ourselves in a position to compete. The rest of the world can't be that wrong."
Grants and other sweeteners are the norm in the high-risk, big-budget film industry; justified on the basis that the expenditure generated during filming and post-production work flows deep into the local economy - from actors, camera crews, lighting and digital effects technicians to caterers, accommodation providers and transport firms. But the New Zealand Government has opted out of what's become an international game of incentive-raising to lure American-funded "runaway productions" - one which threatens even Los Angeles' pre-eminence as the industry's home.
Our large-budget incentive, a 15 per cent rebate, was last adjusted in 2007. During the two years it took for the Government to review its scheme, competitors such as Australia, South Africa, Britain, Canada and several US states all raised theirs.
In the two months since the Weekend Herald revealed the industry's plight, the downturn has only deepened and entrenched positions have been taken over who is responsible. Movies and TV productions mooted to come here have gone elsewhere. Doubt surrounds whether James Cameron's Avatar sequel will be based in Wellington, while Nickelodeon's Power Rangers, which has pumped big money into the Auckland economy for more than a decade, may well not be back.
Agencies involved in the review, including Treasury, the Ministry for Building, Employment and Innovation and the Film Commission, seem to have under-estimated the impacts of failing to tweak our enticements and the industry's worsening plight over the course of the review. The evaluation has drawn flak for its limited understanding of industry dynamics and numbers employed and for a refusal to use a "multiplier effect" to estimate indirect economic benefits. Labour's spokesperson on culture, Jacinda Ardern, has hammered the issue in Parliament, while Film Auckland is arranging a summit meeting on Thursday to forge a united front and seek solutions.
In the blogosphere, there's sympathy for the Government's refusal to enter a "race to the bottom" by matching overseas incentives and for Joyce's concern that other industries could build a "me too" case for similar subsidies. But industry players say they are not asking the Government to continually match overseas incentives and they dispute that the grants are a subsidy.
"It's a rebate of a portion of money that would otherwise not come into the country," says Film Effects director Brendon Durey. "It's better to get a percentage of something than a percentage of nothing. The review didn't take into account all the flow-on effects of the direct investments in the country, people supplying simple things like coffee or timber [for sets] or taxis and the GST that filters through the system.
"There are lifetime National Party voters who are so disgusted they are tearing up their membership cards. At the very least they need to get the evidence independently reviewed."
The usually adroit Joyce has hardened resentment with "dismissive" comments, which critics say show he has limited understanding of industry dynamics. He has linked one studio's problems to increased frequencies on the nearby western rail line and blamed redundancies at some firms on Rob Tapert's decision to "take his productions offshore". Tapert, the film producer husband of Lucy Lawless, is filming new project Poltergeist in Canada. He is as revered in Auckland as Jackson is in Wellington; his movies and mini-series from Hercules and Xena: Warrior Princess to Spartacus and Evil Dead are calculated to have injected $800 million into the local economy.
"The way [Joyce] has trivialised Rob Tapert's support of the New Zealand industry was shocking," says Film Auckland deputy chairman Alex Lee. "He has totally misinformed the country by saying Rob pulled his productions out and that's why Auckland has the problem. A lot of people have been calling for blood. But we intend to appeal to the wider community, to emphasise what the screen sector has done - the way it supports creative industries and allied businesses. [The grant] is not a handout."
Joyce has talked about the industry making a transition from a fee-for-service model beholden to overseas production houses to one with more ownership of productions and control over "intellectual property".
That's fine, critics say, but where is the strategy to get there?
"If he has a plan, he has to tell us what it is very, very quickly before everything crumbles around us," says Studio West co-owner David Rowell, a film production accountant and treasurer of Film Auckland. "Steven Joyce talks about giving money away; it's money that would not be in their hands if [foreign production companies] hadn't come here in the first place."
Film industry tax adviser Pieter Holl has criticised the lack of analysis of flow-on and tax benefits in the review and pointed to overseas analyses. He agrees there's no sign of a strategy to transition the industry. "Why does [Joyce] think that allowing the industry to die is actually going to get us to that brave new world?"
But a lifeline may be in the making. Film Commission and Film NZ officials are examining further options - a sign that the minister recognises the review has at least exacerbated the industry's problems. Joyce told the Weekend Herald he saw some potential in a more sophisticated incentive scheme - such as that adopted in Britain, which raised its rebate last year to 25 per cent but with qualifications such as cultural content and local employment minimums. But he stresses it's over to officials to come up with options that may be short-term, to assist a transition.
Though Joyce has encouraged Auckland Council to look at regional support, both the council and its economic development arm Ateed are keeping plans under wraps.
Kyle, meanwhile, is pinning hopes on next Thursday's industry summit - which she is helping to organise - to identify options which might help to bring her husband home.
The film industry summit meeting will be held on Thursday at 1pm in the Mt Eden War Memorial Hall.