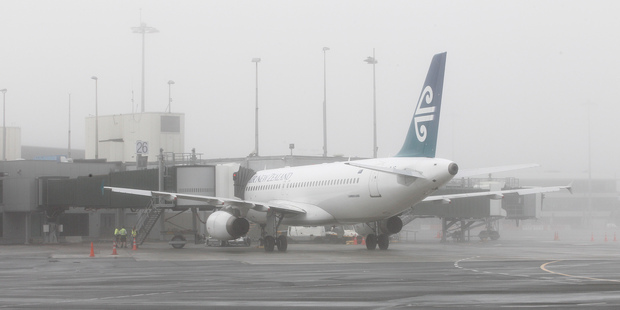 Fog has caused delays and cancellations to flights in and out of Wellington Airport, while the rest of the country prepares for "a better looking weekend" and Auckland a "gorgeous" Saturday.
All flights at Wellington Airport have been grounded until further notice due to the fog, an airport spokeswoman said.
"We ask that all travellers check with their airline or on the Wellington Airport website at www.wellingtonairport.co.nz on their flights status."
MetService spokesman Daniel Corbett said the low cloud hanging around Wellington would break later today, before returning tonight.
"It's kind of drizzly and yucky for the morning tomorrow in Wellington with this low cloud and fog, that'll burn away slowly, then our Saturday starts with a high of around 17 [degrees]."
It was shaping up to be "a better looking weekend" for the rest of the North Island, he said.
"It's dry, it's not thundery, it's not yucky, it's just going to be nice."
A low which had been sitting to the north-east of the North Island causing showers and thunderstorms was due to move east later today, Mr Corbett said.
Another afternoon of thunderstorms could be expected in Auckland today, he said.
"Much of the North Island has another thunderstorm risk, we have a severe thunderstorm watch basically across the Gisborne ranges.
"Auckland wakes up with patchy cloud and you've got a decent day [after], fine spells and temperatures up around 21 [degrees]."
Saturday was shaping up to be a "gorgeous day" in Auckland and the rest of the North Island could look forward to a dry weekend, Mr Corbett said.
The same low cloud currently in Wellington could be seen off the east coast of the South Island, he said.
"That'll be a feature today, and even tomorrow morning for places like Christchurch.
"They'll see that just for the first part of the day and then that will clear away through the morning. They'll get to about 19 [degrees].
"Broadly speaking, overall the country [can expect] a lot of decent weather if you can get away from some just morning bits of cloud and some fog."
The high would last until early next week.
Auckland:
Showers, some heavy and thundery with hail today, clearing this evening. Southwesterlies developing in the evening. Fine spells and southerly breezes on Saturday and Sunday.
Hamilton:
Showers and storms today, dying away this evening. Fine on Saturday following some mist, high of 24.
Wellington:
Patchy drizzle and low cloud clearing this morning, then fine spells developing. Drizzle returning tonight, before clearing tomorrow morning. Fine spells developing on Saturday.
Christchurch:
Low cloud with drizzle developing this afternoon. Often cloudy on Saturday, patchy drizzle clearing in the morning. Sunday becoming fine, however cloud returning later with a southerly change.
- APNZ