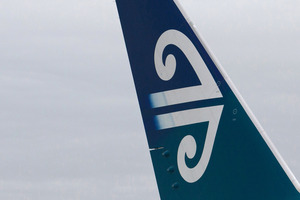 An Air New Zealand employee who emailed senior executives comparing his boss's leadership to Saddam Hussein's regime was justifiably disciplined, the Employment Relations Authority has found.
Mataiasi Tuioti, who worked as a technician in the airline's Gas Turbines division, received a final warning for the four-page email, sent in May last year.
It was sparked by redundancies at Gas Turbines, which Mr Tuioti felt could have been avoided with better business practices.
Mr Tuioti had repeatedly asked to have a meeting with his boss, John Callesen, but had been told to "bullet point his concerns in an email".
However he decided he was being ignored by Mr Callesen and needed to elevate the issue.
An email was sent to senior executives of Air New Zealand including then CEO Rob Fyfe, Mr Callesen, and all members of Gas Turbines - though due to an email error, general staff didn't receive it.
The subject line stated: "Very Very Very Concerned Gas Turbine Employee!!!"
Part of the email read: "With the likes of Saddam Hussein we learn that thousands of innocent lives were lost under his leadership and thousands more even some of the militaries best men were lost trying to remove him from power.
"I have just witnessed last Friday on the 25th of May 2012 one of my best mates been shown the door after 39 years of faithful service as an Air New Zealander ... due for lack of basic business fundamentals and business experience of those who are directly responsible and who are in charge of the decision making here in Air New Zealand Gas Turbines."
He called for those accountable to "fall on their own sword" to save the sinking ship.
Referring to his boss, Mr Callesen, he said "I probably have more business experience and leadership skills than John would ever obtain in a lifetime."
Mr Tuioti had previously been warned that mass emails were not an appropriate way to raise workplace concerns, after twice emailing all staff to raise ideas and issues.
In his complaint to the authority, Mr Tuioti said he felt he had a responsibility to step up and voice his concerns.
"I had believed the company would value personal integrity and respect this. It was quite devastating to be told I was to receive a final warning."
The determination by authority member Anna Fitzgibbon found the email amounted to a personal attack and an attempt to discredit Mr Callesen, and the final written warning was justified.
- APNZ