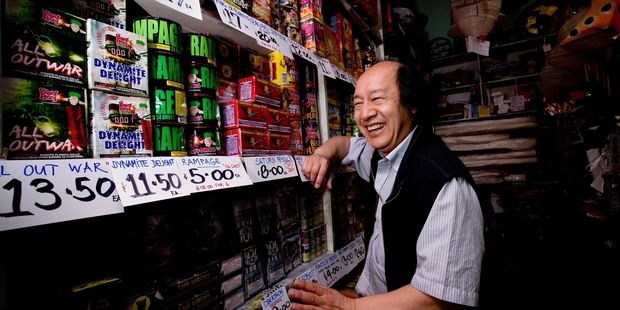 Hundreds of ACC claims arising from firework injuries are expected in the next few days as New Zealanders let off shop-bought explosives.
Last year, ACC received about 445 claims which mentioned fireworks in the accident description.
Of these, 213 involving injuries that happened in the November 2 to November 5 fireworks sale period.
This compared with 440 claims in 2011, 400 in 2010 and 463 in 2009.
Soft tissue injuries such as bruises, strains and sprains were also common, leading to about 62 claims, suggesting too many Kiwis slipped or collided with something as they moved away after lighting fireworks.
The total cost of the claims amounted to nearly $200,000.
Tighter regulations introduced in 2007 - raising the purchase age, reducing the sales period from 10 to four days before November 5 and limiting the types of fireworks that can be sold - had led to fewer call-outs for the Fire Service.
"In recent years the only noticeable increase in fire-related calls has been on the nights that the event is widely celebrated, usually the two Saturdays closest to November 5," said Fire Service assistant national commander Rob Saunders.
He believed more people going to public displays, rather than buying their own fireworks.
Open fires were restricted in some parts of the country and people needed to check with their local council before lighting bonfires.
The Auckland Rural Fire District remained in an open season, meaning fires could be lit in the open air without a permit, but drying winds and little rain had increased the fire risk.
Mr Saunders also urged people to consider neighbours and pets when letting fireworks off.
A rural group has created a database for animal owners around the country to log fireworks-related incidents and costs.
"Some people seem to think that being in a rural area they don't need to worry about what they do on their property," said Vivien Dostine, president of the recreational riders group NZ Horse.
"But they forget they may affect their neighbours whose stock are either pets or their livelihood."
Unlike cats and dogs, horses and other large livestock could not go indoors, and the group warned Guy Fawkes came at foaling time when young animals and pregnant mares were particularly sensitive to loud noises.
A New Zealand Veterinary Association survey after last year's celebrations showed a reduced number of incidents, but there were still alarming cases.
A Manawatu clinic reported several animals being hit by cars as they ran away in fright, and a distressed dog in Upper Hutt required sutures after jumping through a window.