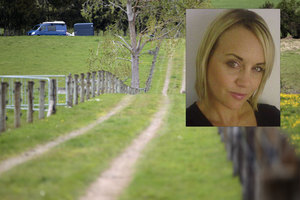 A key Crown witness against two men charged with the kidnap and murder of a Hamilton woman has denied killing her himself.
Lee Rigby, who is already in prison for his role in the kidnapping of Rae Colleen Portman, 33, who went missing in June last year, took the witness stand in Auckland High Court for a second day today.
Ms Portman, who was four months pregnant when she died, was found in September 2012 dumped in a pit and covered in rubbish bags on an Ardmore farm.
Paraire Te Awa, known as 'Friday', has been charged with her murder and kidnap, while Dean Michael Addison faces a charge of kidnapping and two drugs offences. Both have pleaded not guilty.
In almost a full day of cross-examination by Te Awa's defence lawyer Peter Kay, Rigby was accused of lying about the events of June 20 and 21 - the overnight period in which Ms Portman is alleged to have been killed - and was portrayed as a drug-addled, angry man who strangled Ms Portman himself over drug debts she had mounted up.
It has already been established that Ms Portman was involved in the transport and distribution of pseudoephedrine, the substance used to make methamphetamine, and was a meth user.
The prosecution argues that Addison ordered her kidnapper to "teach her a lesson" over a drug deal, and that Te Awa then took the threat one step further and killed her.
It is alleged that Te Awa bound and gagged her, stuffed her into the boot of her black Mazda, and with Rigby, drove to Hamilton where she was strangled.
However, Mr Kaye today questioned Rigby's version of events, in particular the details of her death, and asked if he had been the one who killed her.
"Absolutely not," Rigby replied.
Mr Kaye said the journey Rigby described, driving to Hamilton with Te Awa on the night of June 20 - of which there is CCTV footage and service station receipts to place them on the route - was simply to deliver the Mazda to a friend in Ngaruawahia, and did not involve Ms Portman's body in the boot of the car or her killing.
"Why would I concoct a story to have myself arrested for kidnap then?' Rigby said.
He denied knowing anything about whether Ms Portman was "not delivering" on her drug deals, failing to come up with the money for her bosses - understood to be top-end gang members - and that he had any connection to her meth dealing activities.
Rigby stuck to his evidence that he was threatened by Te Awa to drive the Mazda to Hamilton, where he witnessed him tying a noose around Ms Portman's neck and tightening until she died. This included details of how he made the mechanism with a motorcycle strop and handle, despite admitting he was standing away from the car in a "very dark" industrial site.
He claims they then drove back to Auckland, stopping at the Ngaruawahia home to hide the car under a trampoline.
Rigby denies going to the farm to dump her body, saying the only times he went to the Papakura-Clevedon Road property after Ms Portman's death was under orders from Addison to collect tools and a trailer.
However, he did admit he had attempted to destroy the number plates of Ms Portman's Mazda, which he says were discovered in the car workshop of Addison's Papakura home in the weeks after the murder, and were later found by police in a bin outside the property.
He said he had been concerned about being "fixed up" for Ms Portman's murder, as Mr Kaye was "trying to do right now" in court.
The trial continues on Monday, and is expected to last another two weeks.
- APNZ