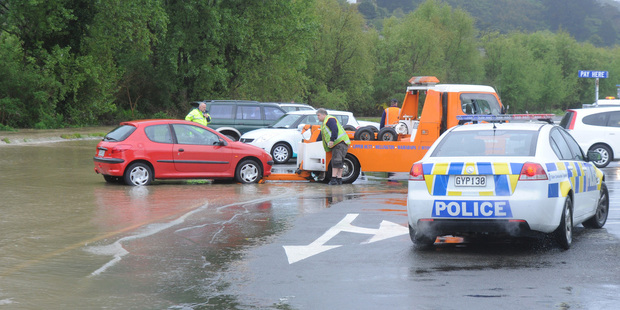 Wellington has been hammered by heavy rain and strong winds today, bringing down trees and blocking roads.
Met Service duty forecaster Larissa Marintchenko said while the bad weather would ease by this evening, Wellingtonians should prepare for a wet Friday.
"So far in the forecast for today, we have winds with some heavy falls clearing tonight.
"We have strong northerly gale gusts, up to 110 km/h until evening.
"Tomorrow morning, we are still expecting some showers developing. And they becoming frequent in the afternoon and clear in the evening," Ms Marintchenko said.
Motorists were advised a large tree had fallen, blocking the main road between Churton Park and Tawa.
Wellington City Council said Middleton Road was expected to be closed to traffic for the rest of the day while crews removed the macrocarpa tree.
"Two other large macrocarpas are reported to be on a lean and will also have to be cut down and removed. Traffic between the two suburbs is being diverted on to the nearby Johnsonville-Porirua motorway," a council spokesman said.
In Brooklyn, motorists were told to avoid Brooklyn Road - one of the main routes to Wellington's southern suburbs - while a large pine tree was cleared from the road.
The Transport Agency also issued a caution for motorists travelling around Lower Hutt.
Block Rd, off State Highway 2 in Melling was closed due to the rising Hutt River. A riverbank car park had also been closed, the agency said.
The Fire Service said it had attended one weather-related call today, reported as a "domestic flooding" incident.
- APNZ