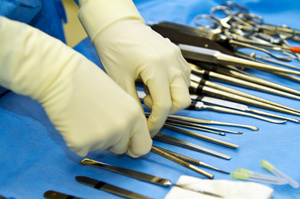 A patient suffered three injuries as a result of surgery at Grey Base Hospital, the Accident Compensation Corporation (ACC) says.
Jen Branje, 45, of Ashburton, was living in Westport when the alleged surgical botch-ups occurred.
She had a hysterectomy and repairs to her bladder and vagina at Grey Hospital in June last year, after suffering heavy menstrual bleeding and urinary incontinence.
Mrs Branje said she was never warned about possible complications from the tape the surgeon inserted to hold up her bladder. When she suffered post-operative complications, she discovered the tape was embedded in her tissue.
She had corrective surgery at Grey Hospital last October to cut and resection the tape, but the second surgery was also botched, she said.
An ACC specialist has now identified she suffered three surgical injuries:
Nerve damage, which was causing thigh pain;
urinary obstruction and painful sexual intercourse because the tape was inserted too tightly;
erosion and exposure of the ends of the tape through her tissue.
The specialist said all three injuries were uncommon.
ACC agreed to cover them but declined to cover Mrs Branje's anterior/posterior prolapse because neither was a new injury resulting from surgery.
Mrs Branje said today that her health was still poor.
"Urinating is pretty excruciating."
Her incontinence was worse than ever.
She and her husband had been unable to resume sexual relations. "I told them at Grey that I felt I had two little horns inside - one on either side - and they said to me I was imagining things.
"But the specialist has found that the tape when he [the Grey Hospital surgeon] cut it, was not buried back inside my tissue and is actually protruding out my vaginal wall."
She still had no feeling in her thighs, she often suffered "freaky pain and twitching" in her legs and was unable to stand or sit for long periods.
Driving to medical appointments in Christchurch, an hour away from her home, was an effort, she said.
She was using meditation to control her pain and was still awaiting remedial surgery. It had been delayed after she had a turn and had to be checked out by a cardiologist.
Because ACC would not cover her prolapse, she might have to have the prolapse repaired in the public health system and have the other operation privately.
She was disappointed ACC would not compensate her for loss of earnings because she had been off work for two years - as a result of her medical conditions - before the Grey Hospital surgery.
She would have been back at work long before now if her surgery had been successful, she said.
"I shouldn't be waiting another year to get better and go back to work."
She was now putting her case in the hands of a lawyer.
When Mrs Branje requested her medical records from Grey Hospital earlier this year, the West Coast District Health Board (DHB) sent her an incomplete file and mistakenly included two pages of confidential medical files for a Westport woman. At the time, the DHB apologised for the mix-up, but declined to comment on Mrs Branje's medical complaint.
The Westport News sought comment from the DHB today, following the ACC ruling. It said key staff were unavailable but it should be able to respond tomorrow.