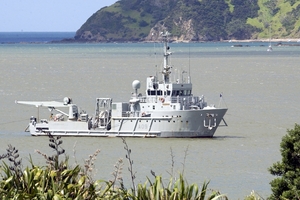 The navy wants to replace two ships with one.
HMNZS Manawanui, a mine countermeasures and diving support ship, is on the way out, and the hydrographic survey ship, HMNZS Resolution, was decommissioned last year.
A document released this week showed the replacement vessel would probably spend at least 200 days a year at sea. It will also will be tasked with hydrographic surveys, mine countermeasures and diving operations. The navy acquisitions team said the replacement was an "opportunity" to merge Manawanui and Resolution's capabilities.
Dr Paul Buchanan, a strategic analyst at 36th Parallel Assessments, said the navy was "asking for a lot".
"They want a general purpose platform that can handle three core missions and a variety of additional tasks, such as special ops deployment and aviation operations."
The new ship is intended to support military operations in the coastal zone and littoral - land areas close to shore.
The navy expected the new boat to travel up to 18 knots or 33km/h. The navy wanted the new ship to be in service by the middle of 2018.
A navy spokeswoman said the plan was at an early stage and the organisation was still assessing what a "ball park figure" for the new ship's cost would be. The navy would then present a business case to the Government.
Companies interested in supplying the new ship have until December 2 to respond to the navy's request for information.