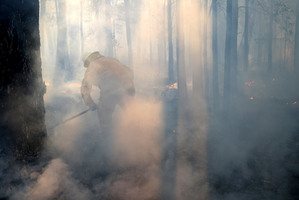 Smoke from the New South Wales bushfires is expected to drift over New Zealand in the next few days, the National Institute of Water and Atmospheric Research says.
The devastating bushfires, located mainly across the Blue Mountains near Sydney, have been burning for eight days. More than 200 homes have been destroyed so far.
Niwa atmosphere scientist Tony Bromley said wind patterns in the Tasman would bring some of the smoke over New Zealand.
"Some will be washed out of the atmosphere by rain, but the sheer size of the smoke plumes will ensure a lot will make it to New Zealand and beyond,'' he said.
Evidence of the smoke would most likely be visible in Auckland and the top of the North Island from tomorrow evening. It should remain visible until about Saturday night, Mr Bromley said.
Central New Zealand would see smoke from the bushfires from about midday on Saturday. It would remain for a period of 26 - 48 hours.
"The South Island is unlikely to see smoke until early next Tuesday,'' he said.
Mr Bromley said the forecast for smoke over New Zealand was based on forecast weather patterns.
"The predicted winds across the Tasman over the next few days are forecast to be strong, and it may take the smoke as little as 15-18 hours at times to cross from New South Wales.''
The smoke could make sunsets and sunrises more intense, depending on cloud cover. The smoke plume should remain clearly visible during the day, he said.
- APNZ