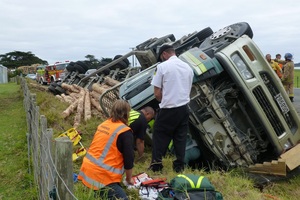 A truck driver has been seriously injured after yet another logging truck crash on the Far North's Aupouri Peninsula.
The latest accident occurred at a bend on State Highway 1 at Pukenui, near the turnoff to Houhora Tavern, about 7.30am today.
It is understood the trailer veered off the road into a ditch, causing the driver to lose control and flipping the truck.
The driver was trapped by his feet and with the steering wheel against his chest.
A digger had to be used to lift the cab so volunteers firefighters from Kaitaia and Houhora could finish cutting him out about 9.30am.
He was airlifted to Whangarei Hospital in a serious condition by the Northland Electricity Rescue Helicopter.
Investigators from the police Serious Crash Unit are on their way from Whangarei.
A large number of logs were strewn across the area but the highway is understood to be open.
No further details were known as of noon on Thursday.
The last logging truck crash on the Aupouri Peninsula occurred at Waiharara on October 7, leaving the Whangarei driver with neck injuries.
That crash came just hours after Houhora police Senior Constable Tracee Knowler issued a warning about the speeds of some logging trucks in her patch.
Last week a volunteer ambulance driver on the Aupouri Peninsula reported being left behind by a logging truck, even though he was on his way to an emergency and driving as permitted at 130km/h.
Witnesses to today's crash, however, told the Northland Age the truck was not speeding at the time.
For more articles from this region, go to Northern Advocate