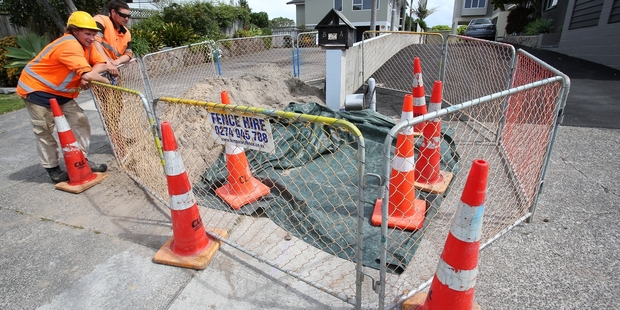 Human bones have been discovered by contractors laying ultrafast broadband cable in Mount Maunganui.
The bones were discovered after lunch yesterday outside an Oceanbeach Rd property.
Tauranga police Senior Sergeant Glenn Saunders said archaeologists had been to the site and had confirmed the bones were koiwi (human remains) but as yet there was no indication of the age of the bones.
New Zealand Historic Places Trust spokesman John O'Hare said his organisation had provided information about how the remains needed to be dealt with under the Historic Places Act.
"We understand the human remains will be covered over until a decision is made as to their final resting place.
"Contractors stopped work when the bones were found, but have been able to start working again in another area away from where the bones were located."
Ultrafast Fibre Ltd marketing manager Brett Morris said it was the first time he knew of that any of the company's contractors had come across human remains while laying the ultrafast broadband cables.
"We will stop work in that area until we are advised otherwise by New Zealand Historic Places Trust and local iwi."
The discovery was the third recent case in which human remains had been discovered by contractors. In July human bones were found at Pilot Bay, temporarily halting work on the controversial boardwalk project.
In June there was a similar find in Tauranga's Robbins Park, at the end of Monmouth St. Contractors were undertaking earthworks, as part of an $11,000 project for Northpower to enhance the power supply into downtown Tauranga when they came across pieces of bone.
For more articles from this region, go to Bay of Plenty Times