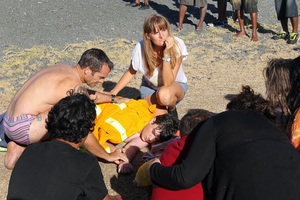 A teenager who was rescued by two police officers from rough surf at a Hawkes Bay beach has paid tribute to his heroes.
Joshua McQuoid, 13, was with his cousin at Napier beach in March when when a large wave broke on shore, knocking him over and sucking him into the surf. He was swept along the beach, and an attempt by a German backpacker to rescue him failed as he struggled against the strong swells.
Senior Constable Bryan Farquharson and Constable Paul Bailey responded to a 111 call, but were also beaten back by the surf.
They managed to reach Joshua at one point but the undertow broke their grip on him and swept them back out.
Mr Farquharson then had the idea to form a human chain, and managed to bring Joshua back to shore with the help of other people on the beach that day.
Video footage of the rescue captured the moment members of the public joined the officers to form a human chain to bring Joshua to shore, after Mr Farquharson and Mr Bailey were repeatedly beaten back by strong waves.
Their efforts were recognised at the Police Association Annual conference today, where Prime Minister John Key presented each of them with a prestigious New Zealand Police Association Bravery Award.
The awards were reserved for officers who had performed the "most outstanding acts of police bravery," Police Association president Greg O'Connor said.
"The actions of police officers Farquharson and Bailey exemplified the traditions and highest ideals of policing," he said.
Mr O'Connor said the two officers showed "extraordinary and selfless bravery, in leaping without hesitation into dangerous surf to save Joshua's life".
"It is this act of extraordinary bravery for which they are being honoured," he said.
After the formalities, Joshua - who had travelled from Napier with his family for the awards - thanked the officers for their efforts.
"You said you weren't a hero, but I think you are, you are probably the most heroic men I have met in my life. I'd like to thank you so much for being there that day to save me," he said.
Mr Farquharson said he was proud to be a recipient of the award.
"It takes you back to the moment, very overwhelming."
"It's funny because when I was a young fella at boarding school...we use to go up and body surf on those sort of waves and come back with bleeding elbows and shoulders and we thought it was great fun. But, it's quite dangerous when you think back on it."
Mr Bailey and Joshua also talked about the German tourist who helped in the rescue.
" ... if he hadn't done what he did then, we wouldn't have seen the little boy in the water when we got there."
Mr Bailey, whose young family watched him receive his award hoped "someone would do the same thing if it were my kids in the same situation."
- APNZ