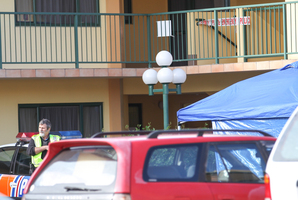 An elderly Chinese couple found dead in their Hawke's Bay motel room are believed to have died from natural causes, police say.
Louis Yun Kau Ng, 78, and his wife Chiu Ngor Ng, 81 were holidaying with their son and daughter-in-law when their bodies were discovered by family members at Deco City Motor Lodge, Napier on Wednesday night.
The couple, who were of Chinese descent, had lived in Auckland for many years, police said.
Detective senior sergeant Dave de Lange said preliminary post mortem results indicated the couple died from natural causes, and their deaths would be referred to the coroner.
Cordons were lifted last night at a floor room and stairwell. The scene was guarded for most of the day yesterday until about 6pm.
"We're all done and dusted here - we're just getting a specialist down to look at something and then we'll be leaving," detective sergeant Mark Moorhouse said yesterday afternoon.
Police spokeswoman Kris McGehan confirmed the pair were deceased when emergency services arrived.
St John Ambulance operations manager Stephen Smith said two ambulances had been sent. "We did attend and provide medical care but it's a police matter now."
Mr Moorhouse said a preliminary examination did not indicate that weapons or trauma were involved.
Toxicology tests could take up to two weeks to be returned.
Deco City Motor Lodge owner Clinton Green told Hawke's Bay Today the couple were "really nice" people and that the son and his wife had been staying at the motel, where Victim Support contacted them.
He said early yesterday they were holding up "as well as can be expected" given the circumstances but he did not want to comment further "for the family - and they're still here, so I won't be making any comment".
It is understood the pair left the motel and returned to Auckland yesterday afternoon.
Mr Green said the police had been "caring and respectful of our business."
Guests remained at the motel on Wednesday and Thursday nights, with some being questioned.
- Anna Ferrick and Amy Shanks of Hawke's Bay Today and APNZ
For more articles from this region, go to Hawkes Bay Today