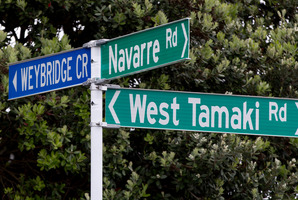 Auckland's traditionally blue street signs could be eradicated in a green revolution - without any public say.
The council's transport organisation insists it has yet to decide which of the two colours to make standard issue for street signs across the region.
It blames the appearance of two green street signs at an eastern suburb intersection, mystifying residents by clashing with a blue one already there, on an errant contractor.
Auckland Transport promised yesterday, after questions from the Herald, that it would replace the two new signs with blue ones to restore colour conformity at the intersection of Navarre Rd, Weybridge Crescent and West Tamaki Rd.
But it would not give an assurance that it would consult Aucklanders on a decision in mid-2014 on whether to make blue or green the official colour of street signs throughout the city.
Spokesman Mark Hannan said only that the decision would be based on international best practice "around safety and the best visibility for the public."
Although street signs in the former Auckland City have blue backgrounds and white lettering, Papakura and Franklin were the only other "legacy" councils also to use that colour scheme.
Mr Hannan said about 63 per cent of the region's 132,000 signs had a green background.
Although the goal was for all the Super City to have the same colours, that would take several years to achieve as signs would be replaced only for normal maintenance.
That was because the full replacement cost, at $180 a sign, would amount to more than $23 million.
Until next year's call, damaged or worn-out signs would be replaced with those of the same colour.
Orakei Local Board chairwoman Desley Simpson, whose boundary with the Maungakiekie-Tamaki board is along West Tamaki Rd, was surprised signs were not colour-co-ordinated across the region during Auckland Council's first term.
"It's part of the transitioning - I'm surprised Auckland Transport did not make a regional decision pretty early on," she said.
She said her board would have an expectation of being consulted and, although her personal preference was for keeping the signs blue, she would be guided by professional advice and public opinion.
Her board's transport spokesman, Ken Baguley, said he preferred blue as Auckland's traditional colour in pursuits such as rugby and netball.