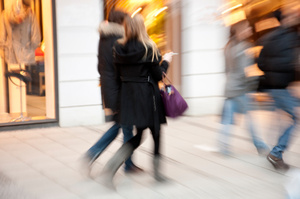 Retailers are being targeted by teens stealing clothes ordered via social networking sites.
One Dunedin fashion retailer said an urgent stocktake revealed up to $5000 in clothing items had been stolen from the George St shop in the past year.
That stocktake was prompted by the recent arrest of a teen at a department store. Police found him in possession of items allegedly stolen, including clothes of various sizes with the George St shop's labels still attached.
The shopowner, who declined to be named for fear of reprisals, said staff recognised a picture of the offender, who was a frequent visitor, along with his friends, to the shop.
Thefts had led to the installation of a $5000 security system.
The shopowner said other items stolen included soccer boots, underwear and other items of clothing from other Dunedin retailers.
It appeared teens were stealing to order, following requests on social networking sites from their peers, she said.
The organised nature of the shoplifting has prompted the Otago Chamber of Commerce to organise a special theft prevention workshop for city retailers.
"It is important, because it is a cost on retailers and ultimately a cost on us as consumers, because you end up having to pay for what someone is stealing," chief executive John Christie said.
The use of social networking sites to steal to order was a "disturbing trend".
Some retailers had no idea on how much stock had been stolen, and many were now opting to beef up security.
Retailers interested in attending the theft prevention workshop were urged to contact the Chamber of Commerce.