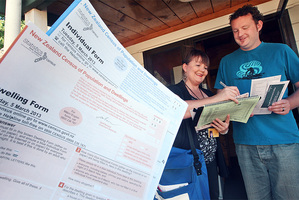 Census worker Kim Wilson shows Hamish Hamilton how to fill in a census form for the first New Zealand census in seven years. Photo / Ben Fraser
Statistics New Zealand census general manager Sarah Minson is joining us for a live chat at 1pm.
Minson has spent the past eight years working on the 2006 and 2011/2013 censuses.
She will be discussing the main themes in the 2013 Census data released this morning.
Send her your questions by clicking 'Comment Now' below.