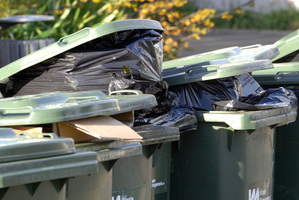 New rules for how Auckland householders separate their waste and put it out for collection come into force on November 1.
Among changes, the new bylaw limits recyclables to 5 per cent of the volume of refuse put out in a bin or bag.
It aims at salvaging an estimated 15 per cent of rubbish which can be recycled instead of lost to a landfill.
But it is a primer for when all Aucklanders switch from a council rates-paid collection to user-pays from July 1, 2015.
Then, urban householders must separate the kitchen scraps from refuse for a third bin reserved for an organics collection.
It is estimated that 50 per cent of household rubbish is organic matter and from 2015 no more than 5 per cent of volume will be allowed.
"We are doing a lot of education work to prepare people for user-pays - we want to encourage them to recycle as much as possible so it keeps their bills down," said council solid waste manager Ian Stupple.
Next month's controls, which back up the council's waste minimisation plan formed last year, bring in standard collection rules across the region.
No "handfuls of green" from the home garden tidy-up are allowed to go in the refuse bin.
However, noxious plants on the regional list are allowed to go in the bin as refuse which can be hard to compost.
"We will keep pushing home composting where possible and encourage people with a large amount of garden waste to use a private green waste collection service."
The bylaw lets the council specify a list of what recyclable materials go into a recycle bin. Mr Stupple said the council found 5 per cent to 10 per cent of material put into a recycling container was not recyclable for a number of reasons. But he said the council would rather take a practical, common sense approach rather than a hard policing line.
"Some of this material that people anticipate is recyclable has no market at the moment, for example, a plastic bag or some soiled clothing cannot be recycled in Auckland.
"If people mistakenly put some general refuse in a recycle bin and we came across a heavily contaminated container, we would get a staff member to talk to the resident."
A contaminated bin or bag might be stickered by the collection contractor which would guide the householder and give a contact for council advice.
The bylaw tells how bins should be positioned on the footpath - close to the kerb and not blocking traffic. And the times that rubbish can be collected are extended to all areas between 7am and 7pm Monday to Saturday, except for a 6am start on busy arterial streets.
Bylaw changes
November 1, 2013
* Recyclable material in refuse container must not exceed 5% by volume of waste.
* Only council-specified materials can go into recycle bin.
* Times and places for putting out refuse and recycling bins and bags.
July 1, 2015
* No organic waste (whether food or green) in refuse, except for pest plants.