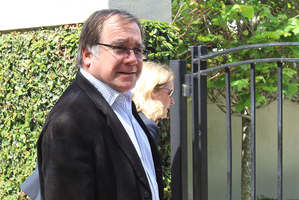 An independent investigation has been launched after an Air Force plane had to circle for two hours before landing at Antarctica in bad weather.
The Air Force Boeing 757 was forced to burn off fuel before a white-out landing on Monday night NZT.
There were 11 crew and 117 passengers on board, including Foreign Minister Murray McCully, who said it was "pretty scary'', and a relief when the plane landed.
The Transport Accident Investigation Commission (TAIC) announced today it had opened an inquiry into the incident.
It said the 757 had landed in weather below minimum standards for landing and with insufficient fuel to reach an alternative airport.
The TAIC said the Air Force had advised it of the incident on Monday, and information provided since then had prompted its inquiry.
Chief accident investigator Captain Tim Burfoot said the inquiry would work alongside but independently of the Air Force's own investigation.
He said the TAIC was precluded from investigating incidents involving only Defence Force resources, but Monday's incident had involved a combination of military and civilian personnel and services.
Mr Burfoot said it was too early to say how long the investigation would take or whether international participation would be required.
Speaking about the experience yesterday (Thursday), Mr McCully said it was "not a very good situation to be in''.
The plane did not have enough fuel on board to make it back to New Zealand, but weather conditions were so bad a normal landing was not possible.
"We clearly knew that there was a capacity for this to have quite an untidy end, and we were enormously relieved that it didn't,'' he said.
The plane experienced further mechanical problems on the US-maintained Pegasus airfield from sitting on the ice for too long, which caused some of the instruments to freeze.
Mr McCully said information given to the pilot about the weather and landing conditions at the base "was not accurate by the time we got down there''.
While he assured it was not a "stuff up'', he said the Air Force would examine whether the information on which the crew made the decision to keep flying was up-to-date, or whether the conditions in Antarctica changed more "dramatically than anyone could reasonably have expected''.
- APNZ