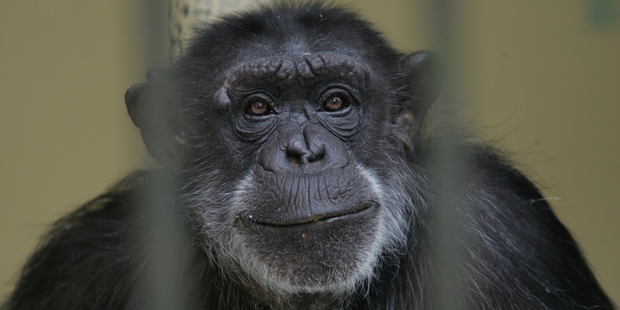 Janie, one of the oldest chimpanzees in captivity and for years part of Auckland Zoo's "tea-party chimps", is dead at the age of 60.
Janie had multiple health issues and was euthanised yesterday.
The zoo's head of life sciences, Kevin Buley, said it had become clear staff could no longer maintain her standard of welfare.
"Janie was and always will be a special part of Auckland Zoo and we are very saddened by her loss.
"While it was a heartbreaking decision, the overwhelming desire to preserve Janie's dignity meant [euthanasia] was the right one."
Janie was the oldest animal at the zoo and was one of the oldest chimpanzees in any zoo in the world.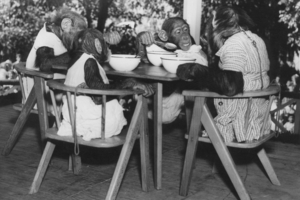 She arrived in Auckland from London Zoo in 1956 with companions Bobbie, Josie and Minnie to showcase chimp tea parties to entertain the public. Changing zoo and public attitudes saw the tea parties stop in 1963. A statement from the zoo said Janie was "highly intelligent, cheeky, funny and wise".
In her 57 years at the zoo she connected with millions of visitors, was treasured by zoo staff, and was loved by many in the Auckland community, the statement said.
If people would like to pay tribute to Janie, donations can be made to the Auckland Zoo Conservation Fund at the zoo or aucklandzoo.co.nz
Janie
• Born in the wild in Sierra Leone in 1953.
• Part of a foursome known as the 'tea-party chimps'.
• Janie became a solo chimpanzee in late 2004 when her last companion, Bobbie, died.
• Janie's health issues - Type 2 diabetes and asthma - were possibly due to her abnormal start in life and an inappropriate diet in the earlier decades of her life.
- APNZ