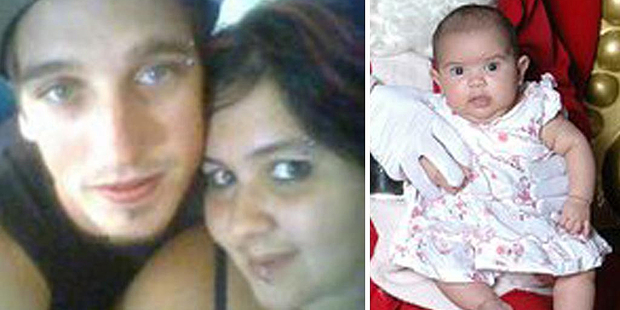 A man who pleaded guilty to murdering Ngaruawahia infant Serenity Scott-Dinnington has been sent to jail for 13 and a half years.
Mathew Shane Ellery appeared at the High Court at Hamilton today charged with the 2011 murder of the 6-month-old girl at the home Ellery shared with the baby's mother and brother.
The 23-year-old was arrested by police last January despite having for months protested his innocence. He entered a guilty plea to the charge earlier this year.
In a summary of facts read out in court today it was revealed that Ellery moved in with Serenity's mother Chelsea Scott and her brother Drew at their Ngaruawahia home in early 2011.
The court heard how he was aggravated by Serenity's crying so he went into her room, held her up by her legs and threw her head-first onto the floor.
He then took a cloth nappy and smothered her until there was no noise.
Ms Scott was in the lounge with Drew playing cards and watching television.
After throwing Serenity to the floor and without telling anyone about her state, Ellery went to a dairy before returning to the house and smoking a cigarette.
Upon his return he went back into the bedroom and saw Serenity's eyes rolling back in her head. He yelled out before Miss Scott ran in and called an ambulance.
Serenity died two days later at Starship Hospital.
In his victim impact statement, Drew Scott spoke of how he was cut off from his family, physically assaulted twice and how he suffered continuing nightmares.
Justice Kit Toogood said Ellery had earlier been convicted of assault with intent to injure a former partner, and had serious cognitive, confidence and behavioural issues.
The court heard how Ellery smoked cannabis on a daily basis and was a binge drinker.
He also had previous problems with anger, alcohol and drugs, and was diagnosed with ADHD at a young age.
Outside court, Ellery's grandfather Tom Ellery, said "justice had been done" but he could not get his head around his grandson's offending.
Drew Scott said Ellery should be put away "for life".
"He ruined my life, now it's his turn."
The enduring message to learn from the murder of baby Serenity Scott was an absolute need for parents, caregivers and guardians to protect, care for and love their children, a senior Waikato police investigator says.
Waikato child protection and adult sexual assault coordinator Detective Senior Sergeant Mark Greene said Ellery's sentencing today spoke volumes about the need for someone to act on the behalf of young children, who had no voice of their own.
"The events of 26 April 2011 show that care and protection of young children such as Serenity must be exercised 24/7.
"Our thoughts today go to Serenity's immediate and extended family, who suffered greatly from the callous act which led to her death.''
Mr Greene thanked the Ngaruawahia community for making it clear, both publicly and privately, that they did not accept or tolerate child abuse.
That community support was instrumental in solving the case, he said.
The sentencing would bring closure for medical staff at Waikato and Auckland's Starship Hospitals who treated baby Serenity following her injuries, Mr Greene said.
Since Serenity's death there had been a greater synergy between the primary agencies tasked with protecting the most vulnerable members of society.
"We would encourage anyone with concerns about children to contact us. Your call will be treated in confidence.''
Those wanting to remain anonymous could use the Crimestoppers line on 0800 555111.
"This option proved to be valuable during this inquiry,'' Mr Greene said.